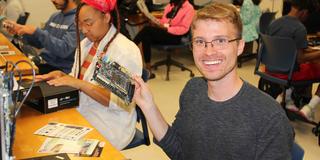 Semiconductor Education and Research Program
Welcome to the Semiconductor Education and Research Program at Central State University. 
Here at Central State University, we are shaping the future of semiconductor education and research, combining comprehensive theoretical knowledge with hands-on practical experience. From exploring the basic principles to diving deep into advanced applications, we strive to equip our students with the skills and insights necessary to excel in the ever-evolving world of semiconductors.
One of our projects is funded by Intel through the Intel Semiconductor Education and Research Program in Ohio. This pioneering initiative enabled us to develop and offer our online certificate program in semiconductor processing and a minor program in computer hardware technology. That's not all! We're also conducting summer internship programs specifically aimed at providing women and underrepresented minorities with invaluable industry experience. The establishment of state-of-the-art microfabrication and semiconductor simulation labs at CSU is another landmark achievement of this project, providing an unparalleled opportunity to learn, explore, and innovate.
On this page, you'll find not only comprehensive information about our ongoing educational activities but also a wealth of details about our active research projects. One of our notable research initiatives includes studying quantum few-body systems on two-dimensional semiconductor materials.
Whether you're a student passionate about furthering your knowledge in semiconductors, a researcher enthusiastic about adding value to our captivating research projects on semiconductor materials, or an industry professional searching for collaborative opportunities, we welcome you to become part of our profitable community!