The College of Business offers undergraduate programs and a Master of Business Administration graduate program, which are supported by our highly qualified and dedicated faculty committed to your success. All our undergraduate programs are accredited by the Accreditation Council for Business Schools and Programs (ACBSP). Central State is one of 10 HBCUs that hold this specialized accreditation.
The College was named Best Business Program by HBCU Digest in 2018. 
Mission and vision
Mission
The College of Business is committed to providing students with a nurturing educational environment to meet their personal and professional endeavors. We emphasize academic excellence in teaching, research, and outreach in a dynamic, global business environment. The College prepares students for careers in business, government, private and public nonprofit organizations, and graduate school. The College takes great care to ensure that graduates are well-rounded individuals through its Triad for Success, which emphasizes academics, experiential learning, and professional development.
Vision
The College of Business aspires to be globally recognized for preparing graduates for success in business and society.
Master of Business Administration
Become a change agent
Power change in workplaces with an MBA. Our new Master of Business Administration program can be completed in as little as one year. Take advantage of flexible schedules with a fully online program. The future is ours to change. Join our community of learners to become a change agent for diversity, equity, and inclusion in the workplace.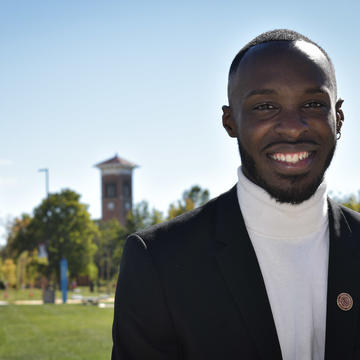 Academic programs
The College of Business has two undergraduate programs and one graduate program, the Master of Business Administration (MBA). 
For information regarding any of the academic programs in the College of Business, please contact the corresponding department chair or MBA coordinator.
2022-2023 Business Advisory Council members

The Business Advisory Council (BAC) is the advisory body for the College of Business. Members specifically advise the dean through three committees that function on behalf of the College and students in the COB. Members represent organizations from the Miami Valley of Ohio, the state of Ohio, the U.S., and globally.

Check out the pictures from the 2022 Annual Ron Cosey Memorial Scholarship Golf Outing.

BAC members and associated companies represented in 2022-2023 are as follows:

Ms. Ayanna Bennett, JPMC

Mr. Keith Borders, Union Savings Bank and Guardian Savings Bank

Ms. Monica Brown, Whirlpool Corporation

Mr. Justin Castleberry, Morgan Stanley Wealth Management

Mr. Rusty Clark, Morgan Stanley Wealth Management

Mr. Dwight Dewberry, PNC Bank

Ms. Elaine Diggs, corporate HR, American Electric Power

Mr. Keith Edwards, KBR Wyle

Ms. Sanserrae Fraizer, First Financial Bank

Mr. Jonathan Gaupp, Walmart Transportation

Mr. Kunta Jackson, treasurer, FDIC (treasurer)
Mr. Wayne Knox, COB Alumni Member (vice chair) 

Mr. Eugene Lee, LinkedIn

Mr. Isaiah "Ike" Lipsey, Lipsey Enterprises

Ms. Tiara Love, Enterprise Holdings (secretary)

Dr. Shendorah Nalls Fisher, Microsoft Company

Ms. Sarah Ross, Fifth Third Bank

Ms. Alicia Reed, Protective Life Insurance Company

Ms. Marya Rutherford-Long, Fifth Third Bank

Ms. Randi Salyer-Frazier, Wright-Patt Credit Union 

Mr. Kevin Sanford, Synchrony Financial

Mr. Patrick Simmons, Walmart Private Fleet

Mr. Maxton Singletary, retired, WPAFB

(chairperson)

Mr. Alfonzo Smith, COB alumni member

Mr. Ernie Sullivan, Sullivan Staffing Strategies

Ms. Cheryl Lavender Wright, P&G

Honorary members

Mr. Vernon Ford (retired)

Ms. Urcelle Willis, university professor (retired)

2022-2023 Student Advisory Council

Tamarea Green 
Major: Business Administration 
Concentration: Management
Classification: Senior

Diana Williams 
Major: Business Administration
Concentration: Management Information Systems 
Classification: Senior

Jevonne Barrett
Major: Business Administration
Concentration: Management Information Systems
Classification: Senior 

Bryce Campbell
Major: Business Administration 
Concentration: Management
Classification: Senior

Priscilla Watts
Major: Business Administration
Concentration: Management
Classification: Senior

Sara Birkett
Major: Business Administration
Concentration: Management (Career Plus)
Classification: Senior

Louronia Phillips 
Major: Accounting 
Classification: Sophomore

Jaylen Jones
Major: Business Administration
Concentration: Marketing
Classification: Senior

Shernice Armbrister
Major: Business Administration
Concentration: Finance and International Business
Classification: Senior

Josiah Smith
Major: Business Administration
Concentration: Undecided
Classification: Freshman 

Teresa Williams
Major: Business Administration
Concentration: Management (Career Plus) 
Classification: Senior

Scholarship recipients were awarded scholarships during the Spring semester of 2022 to be used during the 2022-2023 academic year. 

Diana Williams, Dean Saima Bashir Award
Daniella Dorsette, COB Scholarship
Essynce Mackey, College of Business Student Recognition Award and Joseph P. Blackshere Scholarship
Lendeic Smith, Business Administration Chairman's Award
Tealiah Hilmon, Hospitality Management Program
Samuel Hurst, Larry Kelly, LTD Scholarship
Omar D. Davis Jr., Roy A. Burrows Jr., and Deja D. Campbell, James and Emily Turner Academic scholarships
Esther Cartwright, Vernon Ford Foundation Scholarship
Omar Davis, Herbert H. Willis Student Development Scholarship
Taylor Elliott, Ron Cosey Memorial Scholarship
Esther Cartwright, Rodney Wyse Scholarship
Kristine Trauth, Isaiah Lipsey Scholarship
Diana Williams and Jaylen Jones, Jonas L. Waits scholarships
Shernice Armbrister, Richard D. Kidd Memorial Award Scholarship
Ian Davis, Almon Sims Scholarship
Ariyana Irving, Tiara Love Scholarship
Prinika Smith, KeyBank Scholarship
Roy Burrows, Walmart Transportation Scholarship
Deja Campbell, Stephanie Denhartog, Jevone Barrett, Kentin Wallace, and Lendeic Smith, Burger King Corporation scholarships
Roy Burros, Harry Johns Scholarship Book Fund
Faith Bazilio, Raven Golliday, and Tamarea Green, Fifth Third Bank scholarships
Jonathan Carey, College of Business Graduate of the Year Award

Congratulations to all the recipients and honorees!

Image

ACBSP accreditation

Central State University's College of Business received 10-year accreditation from the Accreditation Council for Business Schools and Programs (ACBSP) in 2015.

Established in 1988, ACBSP is the only organization offering specialized business accreditation for all degree levels, from associate and baccalaureate to doctoral degree programs. ACBSP accreditation certifies the teaching and learning processes within the College of Business at Central State University meet the rigorous educational standards established by ACBSP.

The accreditation covers both undergraduate degree programs offered in the College. Bachelor of Science degrees are offered in Accounting and Business Administration, including all concentrations.

The Bachelor of Science in Business Administration degree program currently has eight concentrations, which are all accredited by ACBSP. The concentrations are agribusiness, entrepreneurship, finance, hospitality management, international business, management, management information systems, and marketing.

The Master of Business Administration, launched in 2021, has not yet gone through the accreditation process. It is expected that it will be included in the upcoming reaffirmation in 2025 or sooner.

The accreditation acknowledges the University's commitment to teaching excellence and quality improvement.

Assessment reports

2018 to 2022 Peregrine Outbound Comparison (Business Administration)
Earn a degree in three years
Now, students can get a Bachelor of Science in three years.
Central State University and other Ohio public colleges and universities are implementing plans to enable students to complete traditional bachelor's degrees in three years. The three-year graduation plan was created to demonstrate that it is possible for students to graduate in fewer than four years.
A three-year graduation plan is not recommended for every student. In addition to close interaction with faculty advisors at the onset, the following specifications are assumed:
No remedial coursework is required.

The student does not fail any classes.

The student does not change their major.

The student is willing to take classes each summer.
Central State University students must earn 120 credits to complete the three-year degree. Credits may be granted on a case-by-case basis using Advanced Placement (AP), College Level Examination (CLEP), Transfer, and Post-Secondary Enrollment Options (PSEO) credits. Participating degree programs include two summer sessions. More details to follow.
Three-year business degree options
Apply now
If you are ready to step into your future, apply online today. Simply complete the application, upload your documents, and have your transcripts emailed to graduateadmission@centralstate.edu.