Central State University-led Intel summer internship for women and underrepresented minorities kicks off
Posted Jun 08 2023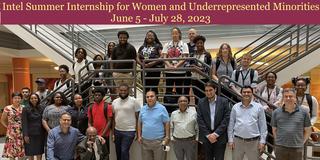 Media contact: Lena Fields-Arnold, 937-376-6677
The Central State University John W. Garland College of Engineering, Science, Technology, and Agriculture (JWGCESTA) welcomed 20 students to the Central State-led Intel summer internship for women and underrepresented minorities at Wright State University from June 5 to July 28.
This eight-week, intensive internship aims to prepare students with skills for and understanding of electronic hardware design, fabrication, and security.
The program, sponsored by Intel, is designed to train students for future jobs in Intel's upcoming Ohio chip factory, projected to be operational in 2025. The curriculum includes five courses that involve daily lectures and extensive hands-on lab practice.
After a rigorous application process from an extremely competitive pool of applicants, 20 promising students were selected from Central State University, Wright State University, Stark State College, Sinclair Community College, and local high schools.
"We are incredibly excited to kick off this internship program. This is an exceptional opportunity to contribute to diversity, equity, and inclusion in the semiconductor field," said Dr. Mohammadreza Hadizadeh, associate professor of physics at Central State and CSU-Intel project director. "This initial step represents a significant stride towards training the future workforce with practical skills in the semiconductor industry."
According to Hadizadeh, the internship is made possible through the generous support of Intel, and in addition to the training, allows students to receive housing, stipends, and opportunities for scholarships.
"We are so grateful to Intel for their sponsorship of the Intel Semiconductor Education Program at CSU," Hadizadeh said. "We express appreciation to the Wright State University team for hosting and providing the ideal setting for this transformative educational experience, and to the CSU-Intel team, comprised of Drs. Mahmoud A. Abdallah, Abayomi J. Ajayi-Majebi, Emdad Ahmed, Deng Cao, Mubbashar Altaf Khan, Morakinyo A.O. Kuti, and Arunasalam Rahunanthan, for their diligent efforts in coordinating this summer internship."
Ajayi-Majebi noted the considerable interest received from women and underrepresented students across various Ohio institutes. "This encouraging response is a strong indicator of the potential for future expansion in semiconductor education and research at CSU and for skilled-workforce development in Ohio," he said.
"Under the active leadership of Dr. Hadizadeh within our semiconductor program, we're making considerable progress in establishing a semiconductor simulation lab and a microfabrication lab right here at CSU," Abdallah added. "By 2024, with Intel's sustained support, we anticipate being well-equipped to expand the program and host the internship on the CSU campus."
Dr. Khan further stated that the internship program demonstrates the commitment of Central State and Intel toward achieving diversity in skilled workforce development in the semiconductor domain. "As we embark on the Intel-sponsored summer internship, we look forward to the innovative and impactful contributions these interns, who choose to pursue a career with Intel, will bring to the semiconductor industry."
"This effort represents how a public-private partnership can address societal concerns," Dr. Kuti said. "The partnership between public institutions of higher education and Intel addresses the national security and economic security concerns for the USA to produce semiconductors domestically through an inclusive and diversified workforce."
To learn more about the Intel-sponsored summer internship, contact Hadizadeh at 937-376-6273 or mhadizadeh@centralstate.edu.
###
Central State University team: Drs. Mohammadreza Hadizadeh, Mahmoud A. Abdallah, Abayomi Ajayi-Majebi, and Mubbashar Khan.
Wright State University team: Drs. Subhashini Ganapathy, Fathi H.M. Amsaad, Travis E. Doom, Ahsan Mian, Ren Saiyu, and Thomas Wischgoll.
Intel interns: Aleyedeen Abdallah, Eva Arnold, Lily Braswell, Mye'sha Burnett, Sharnelle Coicous, Padma D. Doppalapudi, Dana Dyer, Jada Dyer, Keithrelle Ferguson, Jeannie Fritz, Vandeleezza Hepburn, Charles Hill, Jonathan Katampe, Shaun'tel Martin, Jordan Olguin, Courtney Staley, Imani Thompson, Jaydon White, Deven Williams, and Derrick Wilson.