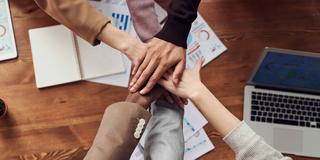 Center of Excellence
HBCU Corporate Engagement
Reach Higher. Go Further. Thrive!™
Central State University has increased its focus on strengthening corporate partnerships by establishing the Center of Excellence HBCU Corporate Engagement at Central State University under the Division of Institutional Advancement.

The center focuses on outreach, research, and development for student placement and talent pipeline development. Through partnerships with Nationwide Insurance, Procter & Gamble, Dominion Energy, JPMorgan Chase, Grange Insurance, PNC Bank, and Fifth Third Bank, the University raised over $2 million for the center in less than five months, forming the foundation for a multi-million dollar capital campaign.
Student-focused
The center enhances opportunities for Central State University undergraduate students to acquire the tools, develop the skills, and cultivate the mindset central to planning, launching, and managing a successful career.
We engage with a broad variety of affiliates and partners from across campus, industries, and the community — from local to global.
Mission
The mission of the Division of Institutional Advancement at Central State University focuses on shaping the future of the University and its students by providing leadership, expertise, and support in the areas of fundraising, development, and donor relations.
The Institutional Advancement team is committed to:
Securing public and private financial resources in support of the annual fund, the endowment, other institutional programs, and the larger mission of the University.
Creating and managing comprehensive solicitation and stewardship efforts.
Providing attentive and responsive alumni initiatives that foster mutually beneficial relationships and lifelong support.
Being committed and insisting on accurate and timely donor information.
Sustaining an aggressive and responsive campaign strategy focused on growth and program enhancement.
Institutional Advancement team members remain fully committed to providing responsive, professional, and timely service to the internal and external constituencies that the University serves. 
Outreach
A growing number of companies across the country are working in conjunction with the center to facilitate growth in rising industries and sustain a flow of education to meet growing demands for jobs.

We inspire the next generation of enlightened business leaders and social entrepreneurs through education, programs, events, and career development.
Development
The Center establishes mutually beneficial relationships that advance the Institution's overall mission. This includes sponsorships, workforce development partnerships, and education philanthropy.

Through collaboration with our partners, Central State students, faculty, and staff can make an impact across the globe. These innovative and leading work projects provide valuable career-making experiences.
Placement
The Center provides a forum for experiential student learning, access to industry experts, and resources and funds for an academic scholarship. We strive to produce graduates equipped with the necessary analytical skills required for success in a global economy and workforce. Working with our partners, we identify career pathways for student development in alignment with industry needs assessments.
Data and research
The Center identifies opportunities to capture current data and provide research-based case statements to support partnership establishment and cultivation that has critical, real-world impact. We produce state-level research on the relationship between education and employment, providing research assistance to our corporate partners to help them meet the needs of an increasingly diverse workforce.
Innovate with us
Central State University is committed to enhancing the educational experiences of all our students, connecting companies with highly skilled employees, and evolving to meet the demands of a diverse and dynamic workforce. Learn more about how you can support Marauders and the future of our esteemed University.