Empowering a community of learners
Image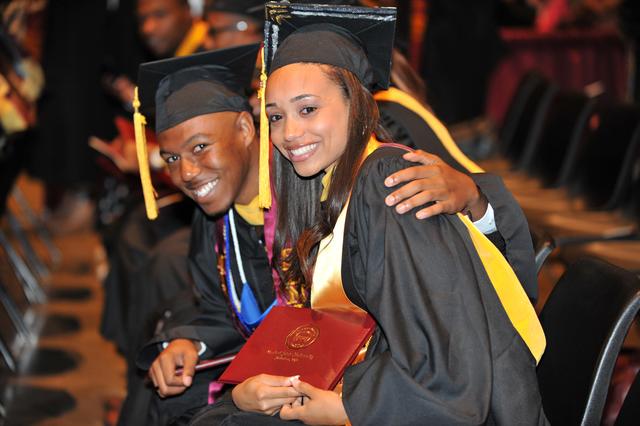 Central State University is committed to nurturing a community of learners and changing lives. As Ohio's only public Historically Black College or University (HBCU) and 1890 Land-Grant Institution, we are proud of our legacy as a bold liberator of minds. As we blaze a trail into the future, we invite you to learn about the many ways you can make a difference in the lives of Marauders and future students.  
Alumni, longstanding partners, and new friends of Central State University are invited to be a part of our educational mission to equip students for lifelong learning, rewarding careers, and lives of service and impact in their communities. Centralians far and wide affirm how their Central State education set them on a path of personal and professional success. We invite you to unlock access to education and economic opportunity for even more students in Ohio and around the world.  Support Central State University with a gift today. 
Join us as we make the academic year 2023-2024 a banner year for fundraising and alumni support! We are united in our commitment to ensure more Marauders can become Centralians — our remarkable alumni who love their alma mater.
All In for CSU
Make an impact
Support our community of learners with a gift today.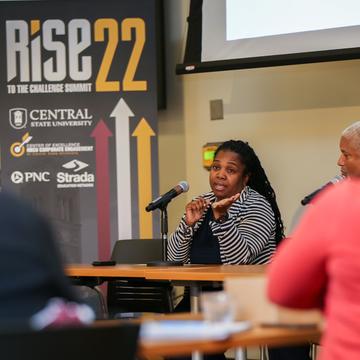 Ways to give
You can make an incredible impact on the lives of current and future Marauders by partnering with us. Together, we can ensure students have access to opportunities for academic, student leadership, and cultural programs as a tangible expression of love.
Give today online, by phone at 937-376-6588, or by sending a check to Central State University Division of Institutional Advancement, PO Box 1004, Wilberforce, OH 45384.
Annual giving
Annual giving is one way you can support Central State University in its current phase of growth and innovation. Click on the sections below to learn about the impact and benefits of annual giving.
Your gifts create scholarships; propel faculty teaching, mentoring, and research; enhance student activities; and fund college programs and campus construction, such as the following:

Helps students with unmet financial needs and the University meet immediate needs and dynamic priorities.
 
Pools resources so that together, we can create a tremendous impact for Marauders at Ohio's only Historically Black College or University (HBCU) and 1890 Land-Grant Institution.
 
Ensures faculty have the teaching resources they need, so students have access to top-notch materials to support them in their personal and educational journeys.

We encourage Centralians to get involved in any way they can. The alumni participation rate impacts our ranking in U.S. News & World Report, which is used across the nation as high school students select their top colleges and universities. 

The University utilizes donations to support programs including: 

Academics 

Athletics  

Band 

Buildings and facilities  

Career development 

Choir 

Equipment 

Leadership development  

Programs 

Research 

Repairs & Upgrades 

Study Abroad 

The Central State University Gift Club membership, renewable each fiscal year (July 1-June 30), is a unique way to show your unwavering support for Central State University. Get started at the level that best fits your philanthropic goals.

Ambassadors — $20,000 or more annually

Innovators — $10,000 to $19,999 annually

Champions — $5,000 to $9,999 annually

Advocates — $2,500 to $4,999 annually

Supporters — $1,000 to $2,499 annually

Friends — $100 to $999
Through employer matching gifts, your contribution of $1,000 can immediately become $2,000 or even $3,000 (depending on your employer's matching gift program guidelines). 

Contact your human resources, talent management, or total compensation team to inquire about the guidelines for your company. Then, simply mail your company's matching gift form with your contribution. It's that easy!

Thank you for raising up Central State at home and in your workplace.
Go all in
Advance equity
Your gift can help students break barriers and create a more equitable world.
Gifts of stock
By donating long-term appreciated securities, such as stocks, bonds, and mutual funds, you can make a bigger and longer-lasting impact on Central State University. 
No capital gains tax on donated securities 
 
Value (tax-deductible gift amount) is based on the security price on the exchange on the day of the donation
 
Qualified Charitable Distributions (QCDs): A QCD allows individuals who are 70½ years old or older to donate up to $100,000 total to charities directly from a taxable IRA instead of making their required minimum distributions. 
 

QCDs are an alternative to required minimum distributions (RMDs) and can be used to manage your RMDs from an IRA. 

 
Office of Alumni Relations
Visit the Office of Alumni Relations online to learn how you can support the work that continues to transform generations of Marauders as they blaze new trails into bright futures.