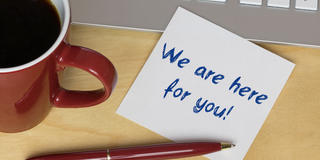 Undergraduate Admissions Team
Your personal guide to the college admissions process  
You have big decisions ahead of you. The Central State University Admissions Team is here to help you and your family understand how the University can help you move into the future of your dreams.
Our team will connect with you about your educational goals and which major may best fit your educational aspirations and future career choice. We can encourage you to make the first step to accomplishing your dreams. 
Whether you are graduating from high school or considering transferring to Central State University or earning a degree at CSU as an international student, we're here for you.
Recruitment Specialists
Our Admissions recruitment specialists cover specific geographic regions and student categories. Find your recruitment specialist below, and feel free to contact them with any of your questions. 
Amanda McCombs — Lead Recruitment Specialist
P: 937-376-6596
E: amccombs@centralstate.edu
Samuel Hurst — Recruitment Specialist
P: 937-376-6109
E: shurst@centralstate.edu
Wayne Trotter — Recruitment Specialist
P: 937-376-6892
E: wtrotter@centralstate.edu
Marchea Wiley — Recruitment Specialist
P: 937-376-6098
E: mwiley@centralstate.edu
Admissions processors
Our Admissions processors have specific alphabetical assignments, but each can assist students in need or who may have questions. Find your Admissions processor below to contact them.
Deborah Taylor — Admissions Processor

Email: dtaylor4@centralstate.edu
Arther Gilliam — Admissions Processor

Email: agilliam@centralstate.edu
Samuel Sharp — Admissions Processor

Email: ssharp@centralstate.edu