You're closer than you think at Central State University-Dayton
Central State University-Dayton is making it easier for you to continue your studies, complete your college degree, and advance your career.  
Mission
The mission of the CSU-Dayton location is to extend Central State University's instructional program to the Dayton Metropolitan Area and to make the resources of Central State accessible to address the needs of the adult student population.
Vision
Transforming communities and changing lives by preparing inspirational leaders
About us
Greetings and welcome to the CSU-Dayton. Since 1887, Central State has been committed to providing education that changes lives. CSU-Dayton, formerly known as CSU West, is carrying on the legacy of excellence, convenience, and care established in the early 1970s. 
In 1973, Central State identified the need for evening and weekend courses for non-traditional students whose work schedules prohibited their ability to take classes on the Wilberforce campus. CSU-Dayton began by partnering with Dayton Public Schools with classrooms and offices in the Roosevelt building and then the Jackson Center. In 2007, noted alum Dr. James Elam presented a gift to the Central State University Foundation. With that gift, the Foundation purchased the former Reynolds & Reynolds headquarters on Germantown Street, which now houses CSU-Dayton.
CSU-Dayton is engaging the community in strategic and meaningful partnerships. This past year has seen many changes and accomplishments, including the following: 
Opened the Workforce Training and Business Development Center at 840 Germantown St., Dayton, a hub to serve underserved communities in Clark, Greene, and Montgomery counties
Established the ABLE\GED partnership with Miami Valley Career and Technical Center
Supported the Greater Dayton Union Co-operative Initiative
Began offering community access memberships to our Cardio Center and fitness classes
These are just a few of the projects that we have supported in past years. We are excited about our location being a change agent in helping to establish programs and support for the Greater Dayton community, the Miami Valley, and beyond. Our faculty and staff are optimistic and inspired by the opportunity to continue a legacy of service and change.
Please consider us as your choice to begin your educational journey, transfer to complete your degree, or host your next event or small conference. We are here to serve and support.
Central State University-Dayton
James A. Elam Hall
840 Germantown St.
Dayton, OH 45402
O: 937-376-6136 or 937-376-6167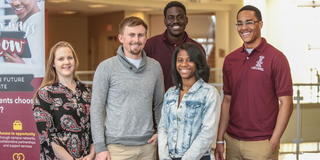 Welcome to our backyard
Workforce Training and Development
The Workforce Training and Business Development Center helps underserved populations find career pathways.
What we offer
CSU-Dayton extends the University's instructional program into the Dayton Metropolitan Area and extends Central State University's resources to address the needs of the adult student population.
Finish your degree at Central State University. The Dayton location offers degree completion programs in Business Administration with a concentration in management.

By completing your degree, you too can become a successful alumnus like former Superintendent Lori Ward, Dayton Mayor Jeffrey Mims, Attorney Michael Matlock, Dr. Isaac Corney, and community leader Derrick Foward.

Take courses leading to a bachelor's degree in Criminal Justice, Early Childhood Education, and Social Work. CSU-Dayton offers additional courses in personal and professional development.

A statewide policy has been developed to facilitate the movement of students and transfer credits from one Ohio public college or university to another. Students may be required, however, to meet additional general education requirements that are not included in the transfer module.

Consult the Office of the Registrar or the University catalog for details.

Students can audit courses but will receive neither grades nor credit for those courses. The student who audits is expected to attend class but is not required to submit assignments or take examinations unless contractually agreed. The fees for auditing are the same as those for enrolling for credit. Changing from audit to credit or from credit to audit is not permitted once registration is complete.

People age 60 and older may audit courses at no charge.
How to enroll
New students
In order to apply for admission to Central State University-Dayton, an admission application must be completed, and an official transcript from all previous colleges attended must be provided. All students must have a high school diploma or GED to attend Central State University. There is a $35 application fee due at the time of submission and a $105 matriculation and orientation fee due upon acceptance. Click here to learn more about fees. 
Transfer students
Graduates of Sinclair Community College who have completed the requirements of the Associate of Science Degree and courses for Engineering Science, Manufacturing Engineering, Industrial Technology, Criminal Justice, Business Administration, and Early Childhood Education will receive full credit for the first two years of the Bachelor of Science Degree in these programs. Students transferring from other institutions will need to meet with a faculty advisor or department chair to determine courses needed for completion of the Bachelor of Science degree in their selected major. 
Readmitted students
Students who previously attended Central State University but withdrew must apply for re-admission. Those seeking re-admission can learn more about the application process and access the application form for details. Walk-in Wednesdays (10 a.m. to 6 p.m. each Wednesday) is a weekly one-stop resource session for prospective students to complete an application, meet with academic advisors, and apply for financial aid.