Welcome to Academic Affairs at Central State University. Serving as Provost and Vice President for Academic Affairs at this storied Institution is a great privilege and honor. We are excited that you have chosen to explore the academic programs at Central State. Academic Affairs aims to cultivate academic excellence through experiential learning, focus on excellent teaching, and phenomenal undergraduate research opportunities for students.
Our dedicated faculty subscribes to innovative and cutting-edge pedagogical practices and techniques. We intend to educate a new generation of intellectual leaders and nominate these students for prestigious national and international awards. We are excited about the numerous outstanding achievements occurring in our academic departments. At our University, students have many occasions to serve the community through outreach opportunities.
We will continue to enhance the overall profile by gaining a competitive intellectual edge and a rise in the rankings of national indicators and services. We promote and showcase our students on all-encompassing academic stages. Our Institution educates individuals who matriculate forward to serve domestically and internationally in various professions in the public and private sectors.  
It is my personal philosophy that universities should not merely consume the resources from communities in which they are situated; they must give back and build up these communities through teaching, research, and service. Along with education and community-based research programs, our University will hone in and focus on problems facing society in general and our communities in particular. As an 1890 Land-Grant Institution, we raise up our community while expanding upon the historic mission of this Institution by seeking excellence in all academic programs.
At Central State University, academic distinction is our destiny!
 
For God. For Central. For State.
 
Best Regards,
 
F. Erik Brooks, Ph.D.
Provost and Vice President for Academic Affairs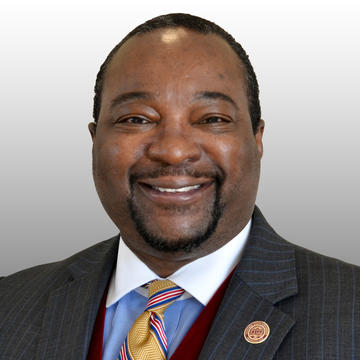 The College of Business offers three-year degree programs, undergraduate programs in Accounting and Business Administration with eight concentrations, and a Master of Business Administration with two specializations. Learn more

The preparation of educators has a distinguished history at Central State. Thus, over the years, graduates of the College of Education have made significant contributions to the profession as teachers and administrators. The College remains committed to maintaining that rich history of service by preparing educators who understand the dynamics of educating students in a complex and diverse society. Learn more

The John W. Garland College of Engineering, Science, Technology, and Agriculture houses the University's 1890 Land-Grant programs and Military Science studies for the ROTC program. Learn more

The Honors College is an interdisciplinary home for highly motivated and high-achieving students. Students' commitment to excellence, leadership in community service, and impressive academic records qualify them to join the honors community — a select group of highly motivated, energetic, imaginative, and dedicated student leaders and scholars.

Learn about the Center for International Education here.

Hallie Q. Brown Memorial Library contains the University's library collections of more than 300,000 volumes, over 847,163 pieces of microfiche and microfilm, 66 print current periodical titles, 30,000 bound volumes of periodicals, and collections of phonograph records, tapes, CDs, DVDs, and film. E-books account for over 100,000 and E-journals over 64,000. The library also houses the Production Lab, a Computer Lab, and the Information Literacy Research Room. Learn more

The Office of Academic Planning and Assessment (OAPA) supports the scholarly, administrative, and fiscal infrastructures required to enhance the University's academic programs, manage institutional growth, maintain accreditations, and achieve the objectives of the University's strategic plan. The OAPA facilitates and supports institutional and program accreditations, assessment of student learning, and program review. Included within the OAPA are the Office of Institutional Research and the Center for Teaching and Learning. Learn more

The Office of the Registrar supports the University by providing services to students, faculty, and staff while ensuring the integrity and confidentiality of academic records.  In coordination with various campus offices, we uphold academic policies related to class and event schedules, academic catalog, registration services, degree verifications, grade processing, and degree audit configuration. Learn more

The Central State University Office of Mentoring Programs works to enhance positive undergraduate students' experiences. The mentoring program is designed to increase retention, persistence, and graduation rates among undergraduate students and help students develop relationships with their peers, faculty, staff, and administrators.

TRIO Student Support Services (SSS) aims to help student students persist through their unique challenges to graduate from college. TRIO Student Support Services, one of eight federal TRIO programs, is authorized by the Higher Education Act to help college students succeed in higher education. The program's design is structured for students from first-generation, low-income families and those with disabilities who have not had the academic opportunities of other college peers. As such, SSS provides participants (freshmen through seniors) with a comprehensive, researched-based framework with measurable objectives, intentionally aligned with the University's mission and strategic goals.

The Office of TRIO Upward Bound Program (CSU-UB) is a pre-college program of robust academic instruction, tutoring, and counseling. The CSU-UB program provides high school students with an opportunity to enhance the academic skills necessary to successfully complete high school and enroll in and graduate from college.

Central State Global believes all students should be given the opportunity to achieve their dream of earning a degree while still managing life no matter who they are or where they are. We take pride in offering a variety of online degree programs and are extremely appreciative of the partnerships that have played a critical role in our experiencing record growth in enrollment. Learn more about Central State Global here. 

Central State University has established bilateral transfer agreements between select colleges and universities. These agreements create discipline-specific pathways that support student mobility, access, and degree completion. The articulation agreements support the transfer of students in programs from associate to baccalaureate and from baccalaureate to graduate and professional programs.

Our articulation agreements offer transfer opportunities for students attending community colleges to continue their education and earn a baccalaureate degree at Central State. Any Ohio resident with an associate degree and a completed, approved transfer module shall be admitted to Central State University provided their GPA is at least 2.0 for all previous college-level courses. In planning their course of study, students are encouraged to consult with an advisor at their home and transfer educational institutions. Learn more