WCSU-FM presents Funky Friday Live
Posted May 17 2023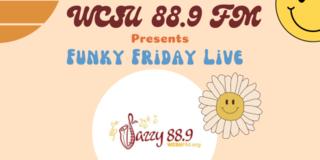 For the first time in its 60-year history, WCSU-FM, the first federally licensed HBCU radio station, will have a national over-the-air broadcasting presence.
Trent Darby, a Dayton, Ohio, native and a 30-year radio veteran, hosts Funky Friday. Darby weaves funk artists of the '70s, '80s, and '90s with anecdotal knowledge of the genre's history.
WCSU is excited to be part of this project that showcases funk — a distinct genre that originated in African American communities with deep roots in nearby Dayton.