Undergraduate Student Success Center works to promote freshmen returning to Central State University for second year
Posted Sep 20 2023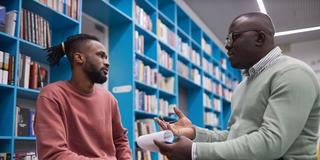 LaKeisha Jenkins Washington, executive director for Central State University's Undergraduate Student Success Center (USSC), is passionate about her duties in improving academic success for Marauders. The metric by which Jenkins Washington and the nationwide academic arena measure this success on a practical, data-based level is known as "retention," or the percentage of how many first-year students return to the same university for a second year.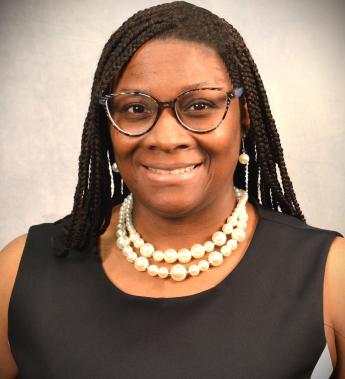 "We wear several different hats," Jenkins Washington, who took on her role at the USSC one year ago, said. "Mainly, we work directly with incoming freshmen, freshmen transfers, continuing students as far as those aligning with freshmen status (29 credit hours or less), and students on academic probation."  
According to Jenkins Washington, students in academic distress are underprepared for college and struggle to maintain a 2.0 GPA. Central State offers these students specialized resources to achieve a higher GPA before facing consequences such as semester or even yearlong academic suspension.   She says that comprehensive and integrated support programs designed to improve students'   study and time management skills are essential to improve levels of student engagement, and student support.to foster active learning. 
The USSC has four essential sections over which its department oversees: 
Academic advising, through which section director LaKeisha Smith leads a group of student success coaches (formerly known as academic advisors). 

Office of Academic Support and Instructional Services (OASIS), which deals with tutoring and supplemental instruction (also superintended by Smith). 

Freshman/first-year experience: provides retention-focused programming for first-year and transfer students. 

Retention and academic success: instrumental in the development, implementation, and analysis of varied retention strategies for students' success. This office integrates varied resources and collaborates with Student Affairs and Enrollment Management to ensure students have a solid educational foundation coupled with a rich collegiate experience. 
All four of these sections together are tasked with strengthening student retention by focusing on a specific "cohort" (meaning the number of incoming students for that particular fall semester) of the freshman class. These various USCC sections track this cohort over the duration of one fall semester to the subsequent fall semester. 
Jenkins Washington added that these cohorts — the number of incoming freshmen calculated for that academic year's fall semester — are exclusively those first-year students who have no previous college experience prior to attending Central State. Some students are part-time Marauders, but that demographic is considered, as Jenkins Washington put it, a specific grouping within that year's cohort.
According to the National Center for Education Statistics. (2022). Undergraduate Retention and Graduation Rates. Condition of Education. U.S. Department of Education, Institute of Education Sciences, sixty-four percent of students who began seeking a bachelor's degree at a 4-year institution in fall 2014 completed that degree at the same institution within 6 years."  
Jenkins Washington believes Central State's retention can and will improve, explaining that she "likes to believe that COVID has taken a toll on all HBCUs on so many different levels, and we're still dealing with the results of that, as are many other institutions." 
Jenkins Washington has already seen visible improvement in how CSU's retention rate is being addressed from an institutional level.  
Smith, Jenkins Washington said, "has a very robust strategy that she uses to advise our freshmen." Complementing Smith's work, Jenkins Washington added that the USSC has "utilized a tool that will assist students with early alert systems."  
Such an alarm system, Jenkins Washington continued, will greatly aid students who may be in academic distress by recording pertinent data about that specific student's scholastic journey and relaying this intel to the student's academic advisor for analysis and, hopefully, viable resolution measures.  
"We are doing what we can to be intrusive in the academic workflow of our students, making sure they are properly advised through courses that they need to take so that they can more properly achieve their goals of success," Jenkins Washington said.  
Other means of supporting Central State students come from the centralizing of tutoring services and supplemental instruction through Smith's OASIS, whose location is now based outside of the Hallie Q. Brown Memorial Library. 
"To achieve better retention rates, we also work closely with incoming freshmen students prior to their arrival date in order to make sure they're introduced to the resources offered here at Central State," Smith said. "We work through the entire summer to do this." 
Such resources include the Student, Orientation, Advising, and Registration (SOAR) programs. It is through these programs that USSC works closely with Central State's Enrollment Management, Admissions, Registrar's, Financial Aid and Scholarships, and Cash Management offices to aid, throughout the summer, the transition of high school graduates becoming Central State students.
These advising services are in place to assist Central State freshmen who may not have acquired enough credits to move into sophomore status. This initiative helps them better accomplish their credits in the new academic year, as well.
Jenkins Washington recalled one student who was a "re-admit," meaning the student "stopped out" (exited the school) at some point. The student decided to return to Central State under the status of being in academic distress. 
The student took a USS 1200 course, which is a class for Marauders who may need an expanded comprehension of necessary study and scholastic work skills in order to be more academically successful. Such skills include time management and, as Jenkins Washington defined it, understanding what it means to set SMART (Specific, Measurable, Achievable, Relevant, Timebound) goals. 
"I celebrate the fact that the student was able to get off academic probation the following semester," Jenkins Washington said. "It doesn't frequently happen that a student leaves and comes back." 
Jenkins Washington asked the student to join a student summit that involved students such as the one in question who had been in academic distress and had gotten themselves out of that status.  
These students were given the stage on a panel speaking with others in the audience who were still currently on academic probation with the purpose of telling their stories, answering questions, and giving tips on how to get out of academic distress.     
That original student of Jenkins Washington's story now, after having graduated, works for Central State, helping students who may need the same brand of support, encouragement, and resources she had been given to find their own paths toward academic achievement.  
Although she had to refrain from revealing any specific number due to lack of specific census data, Smith said she is hopeful about the future due to a markedly improved projected retention rate for the next academic year.  
"We've definitely been seeing an improved retention rate," Smith said. "And that is due to the activities presented by Mrs. Jenkins Washington and the advising staff and USSC staff working hard year-round and throughout the summer. We are really looking forward to building our relationships across the college to show even more improvement in the very near future."