Reserve your limited-edition commemorative box today
Posted Aug 01 2023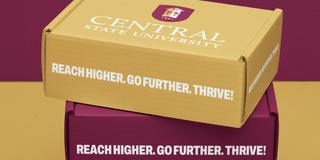 Take a journey back in time and relive the exhilarating moments you experienced at Central State University. If you are a Centralian, you cherish the memories you made and the relationships you formed. If you are a donor, you have helped create incredible experiences for students.  
Now, you have the chance to showcase your pride with a special commemorative box available for a limited time. With a gift of $300 or more, your commemorative box will include a stainless steel travel coffee mug, a fireside ceramic mug, a T-shirt, a scarf, a lanyard, a keychain, a wristband, a pennant, and a display box to sport your items proudly.
You already exhibit your Central State pride every day, and this box and its contents will serve as a constant reminder to you and others just how much this University means to you. Thank you for being a loyal member of the Central State community and showing your love for today's Marauders.
Image

Chad Tillman, '13

"I have been supporting Central State University because it is the foundation of both my education  and professional development. Consequently, I will continue to  support the academy in efforts to perpetuate legacy." — Chad Tillman, '13
Act fast and secure your limited-edition commemorative box by making a donation of $300 or more by Oct. 11 to receive your box just in time for the winter holidays. Donate online or by check payable to Central State University, Division of Institutional Advancement, PO Box 1004, Wilberforce, Ohio 45384-1004.
This commemorative box would also make a great gift for any Marauder fan in your life!