FAFSA open date postponed till December
Posted Sep 12 2023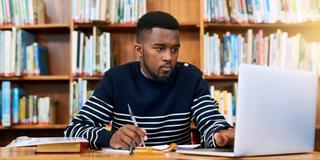 Federal Student Aid, an office of the U.S. Department of Education, has announced unprecedented changes to the Free Application for Federal Student Aid (FAFSA®) for the 2024-25 academic year, including an anticipated open date in December rather than the open date of Oct. 1 used in past years.  
FAFSA enables students to apply for federal grants, work-study, and loans for college, all in one application. Completing the form is a vital step in funding a college education.  
Additionally, applying for aid as soon as possible after the form opens may help students become eligible for more grants, loans, and scholarships. The Office of Financial Aid at Central State University reminds students that submitting the FAFSA early increases their likelihood of receiving scholarships offered on a first-come, first-served basis.  
The new FAFSA will make applying for financial aid faster and easier than ever, according to Federal Student Aid. The projected open date is subject to change based on the federal government's FAFSA release. 
For more information, contact the Financial Aid office at 937-376-6579 or financialaid@centralstate.edu.