Central State recognized as 2023 Fulbright HBCU Institutional Leader
Posted Sep 18 2023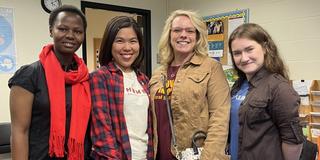 Above: Jane Shange of Tanzania, Yu Chiang of Tawain, Central State University Honors & International Student Advisor Theresa Aikens, Ph.D., and Daria Lenchenkova of Russia. Shange, Chiang, and Lenchenkova served as Fulbright Language Teaching Assistants during the 2022-23 academic year.
Central State University, Ohio's only public Historically Black College and University (HBCU) and 1890 Land-Grant Institution, has been designated a 2023 Fulbright HBCU Institutional Leader. Central State is one of only 19 HBCUs honored by the U.S. Department of State's Bureau of Educational and Cultural Affairs (ECA).  
It is for its notable connections to the Fulbright Program that the University has received this noteworthy recognition. The school has additionally been honored for its dedication to engaging with diverse communities around the world since 2019.  
The Fulbright HBCU Institutional Leader designation was established in 2019 to acknowledge strong partnerships between selected HBCUs and the Fulbright Program. The goal of the Fulbright Program with this designation is to encourage and promote further engagement between HBCUs and the program.
"Central State University's designation as a 2023 Fulbright HBCU Institutional Leader is a testament to (the) Institution's dedication to promoting global engagement and mutual understanding among peoples and nations," noted a congratulatory letter addressed to Central State Interim President Alex Johnson from the office of U.S. Secretary of State Anthony Blinken.  
Blinken also lauded Central State's "longstanding commitment to build diversity and inclusion within the Fulbright Program and within all of (its) international exchange programs." Blinken furthermore thanked Johnson and Central State for their hard work via participation across the full range of Fulbright awards and on-campus engagement.   
The announcement of the Fulbright HBCU Institutional Leaders designations was made earlier today as part of the kickoff of the White House Initiative on HBCUs National HBCU Week Conference in Washington, D.C.  
"We at Central State University are grateful to the Fulbright Program for its recognizing our University as an HBCU leader within its prestigious community," Johnson said. "We will continue to promote diversity, inclusivity, and innovation through our continued work with the Fulbright Program and across the academic field at large." 
Fahmi Abboushi, whose office supervises Central State's Fulbright Foreign Language Teaching Assistant (FLTA) Program on campus, noted this is the second consecutive year that Central State has received the designation.
"It's a great honor because not all HBCUs get this. The feedback we receive from our FLTAs is always quite positive, especially compared to what we hear of FLTAs' experiences at other schools."