Central State professor one of only 800 worldwide to receive prestigious designation
Posted May 17 2023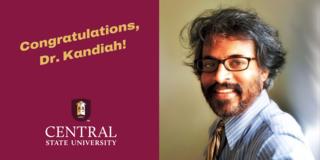 Dr. Ramanitharan Kandiah, professor of Environmental Engineering and chair of the Department of Water Resources Management, received his Diplomate, American Water Resources Engineers (D.WRE) Certificate, making him one of only 800 people around the world who have received this designation. Recently, Kandiah was accepted as an American Society of Civil Engineers-Environmental and Water Resources Institute (ASCE-EWRI) fellow (class of 2023). 
"Preparing for these certifications expanded my knowledge and experiences that I can infuse and incorporate into my courses. I can professionally help my students reach a larger audience and help provide the program and the department with more visibility and recognition. Personally, these recognitions give me some authority and confidence in my field. My hard work and diligent commitment are paying off," Kandiah said. 
According to the American Academy of Water Resources Engineers (AAWRE) LinkedIn page, Kandiah's research areas include evapotranspiration in arid lands, transportation-energy-environment-society nexus, and equity in and history of water. The National Science Foundation and the U.S. Departments of Transportation, Defense, and Agriculture have supported his research projects. 
Kandiah holds a variety of positions and memberships, including the following:
 
Chair, Groundwater Quality Committee of the Environmental and Water Resources Institute
Member, Environmental Sustainability Committee of the American Academy of Environmental Engineers and Scientists
Member, Diversity Equity and Inclusion Committee of the American Institute of Hydrology
Member, Air Quality and Odor Control Committee of the Water Environment Federation
Program evaluator, Accreditation Board for Engineering and Technology Inc.
Chair, Membership and Demographics Committee of the Association of Environmental Engineering and Science Professors (AEESP)
Kandiah received the AEESP Distinguished Service Award in 2019. He also serves as the university representative for the Association of Environmental Engineering (ASEE). A book he co-authored, "Introduction to Water Resources," is used as a textbook for introductory natural science courses. He co-edited "Sustainable Water: Resources, Management, and Challenges."
 
Kandiah received his education at RKM Hindu College, Trincomalee, Ceylon; achieved his BSCE from the University of Peradeniya, Sri Lanka; M.Sc. in Environmental & Water Resources Engineering from Hohai University, Nanjing, China; M.S. in Environmental Engineering from Marquette University; and Ph.D. in Civil Engineering from Tulane University. He completed his postdoctoral research at Northeastern University, where he also holds a graduate certificate in geographic information systems (GIS) and remote sensing. He is a registered professional civil engineer in Ohio. 
The recognition and award ceremonies for Diplomate-AWWRE and the Fellow of EWRI will be held at the 2023 World Environmental & Water Resources Congress during the last week of May in Henderson, Nevada.