Building community: How corporate partners make their mark on students
Posted May 31 2023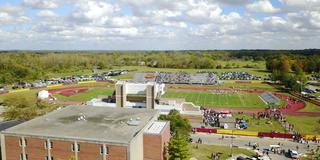 Community collaborations have a profound effect on students and academic outcomes at an institute of higher learning like Central State University, Ohio's only public Historically Black College or University (HBCU) and 1890 Land-Grant Institution.  
With a mission to open doors for younger adults and non-traditional students to pursue degrees and certifications, Central State has joined corporate partners and their foundations, emboldening Marauders to chase their dreams with tenacity and focus and obtain access to valuable career opportunities. 
Nearly 30 partners are advancing equity by working with Central State to diversify and evolve their workforces through the Center of Excellence HBCU Corporate Engagement. Each partner brings unique perspectives and experiences to the campus in Wilberforce and branch locations in Dayton and Xenia.  
Some partners fund programs in collaboration with University departments to prepare change-makers to navigate evolving workplaces. Others offer direct benefits to students through internships, mentorships, on-the-job training, scholarships, and career recruitment.  
Every partnership is grounded in the belief that no matter who you are or where you come from, you have the skills to transform the future with service and unique insights.  
"Central State University provides unparalleled possibilities and educational attainment in higher education," said Tiffiney Gray, vice president of Institutional Advancement and executive director of the Central State University Foundation. "Most students on our main campus and branch locations come from underrepresented communities. Corporations and organizations can revolutionize their workforces by partnering with Central State. 
"Corporate partners work closely with Kim Jones, '89, director of Strategic Partnerships and External Affairs in the Office of Institutional Advancement. "We are committed to identifying and offering exclusive opportunities for students to excel academically. These partners prepare our students with the employability skills they need to excel in the workplace," Jones said. "We extend our appreciation to our partners and look forward to developing and expanding relationships with more organizations to benefit Central State students in the future." 
Since 2021, partners have pledged over $1.6 million in private funding to Central State. The partnerships inspire students to dream bigger and expand their horizons. 
Current partners and their projects are listed below.  
Aurora Advocate Health welcomes students to its sites to tour and learn how their fields of study, such as accounting and marketing, can contribute to corporate growth and career success in any industry, including healthcare. Learn more about the partnership here. 

The Cincinnati Insurance Companies hired two graduates after attending the spring Career Expo, Insurance Day, and a hiring event. United Way of the Greater Dayton Area and the Cleveland Cavaliers engage students through career expos and Career Readiness Week. The professional basketball team has hired two students through its partnership with Central State.  

Disney On the Yard focuses on strengthening communities for HBCU alumni from across The Walt Disney Company. Marauders have access to internships, mentorship programs, and career growth opportunities through this partnership. 
Proctor & Gamble helps prepare students majoring in graphics and design for P&G summer internships through its Cooperative Education Program. 

The Strada Education Network funds the Strada Presidential Leadership Scholarship, which invests in Marauders and students from other HBCUs. Through this scholarship program, Strada Scholars receive leadership development, academic support, and critical social engagement training. Click here to learn more about this and other scholarships available to Honors students.  

Western & Southern Insurance participates in on-campus events and regular campus visits. 
If you are interested in partnering with Central State to advance diversity, equity, and inclusion at your company, contact Jones at 937-376-6054 or kjones@centralstate.edu.