On behalf of those serving the Central State University Police Department, welcome to campus. As your chief of police, I am honored to serve this community. I deeply appreciate the support and confidence that has been extended to me by the President, the members of the cabinet, and the University community.
The CSU Police Department consists of state-certified police officers and civilian employees who work in partnership with our community to prevent crime, solve problems, and improve the quality of life on campus. Our department's primary jurisdiction is the 630-acre campus in Wilberforce Ohio, and Central State University West Campus in Dayton, Ohio. The Central State University Police Department operates 24 hours a day, seven days a week, 365 days per year. 
Image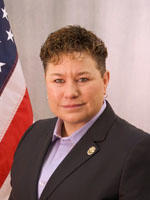 Community-oriented policing is at the heart of our success at Central State. The Central State Police Department is committed to building relationships with community members while providing the highest level of service to keep our residents safe. We establish community partnerships through the daily efforts of our officers and support staff to maintain the confidence of those we serve. Your safety while at the university is the CSU Police Department's primary concern.

The safety and security of the university are the combined responsibility of the entire Central State University community. It is our mindset that safety is everyone's responsibility in managing and minimizing potential crime. We all can play a role in ensuring Central State University is a safe campus to learn, live, work, and play. If you see something, say something!
I consider it a privilege to work with the members of your Central State University Police Department. I have found them to be extremely professional, competent, compassionate, and ready to help. The officers of the Central State University Police Department are firmly committed to providing our community with the highest level of police service while adhering to our core values. Feel free to contact me if you have any questions or comments.

Sincerely,
Stephanie Hill
Director of Public Safety/Chief of Police
shill2@centralstate.edu

Core values: professionalism, respect, integrity, dedication, excellence