Unlock a world of opportunities with a Semiconductor Processing Certificate
Posted Sep 28 2023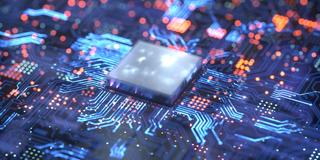 By joining the Intel Semiconductor Education Program at Central State University (ISEP-CSU), you can unlock a world of opportunities and pave the way toward a fulfilling and prosperous career with Intel's new $20-billion manufacturing hub in New Albany, Ohio. 
Central State is committed to addressing the shortage of skilled workers in the semiconductor industry. By enhancing its existing manufacturing and computer science programs, the University is preparing a diverse group of technicians and entry-level engineers for careers with Intel. 
ISEP-CSU provides a comprehensive certificate program that equips students with the necessary skills and knowledge to excel in lucrative careers in the semiconductor industry. With a focus on cutting-edge technology and interactive learning experiences, graduates of this program are well-prepared to enter the workforce and make a meaningful impact in the field. 
The new Semiconductor Processing Certificate at Central State is a 30-credit-hour, 100% online certificate program designed to be completed in less than a year. Besides tuition, there are no fees, eliminating the financial burden of purchasing expensive textbooks by offering them free using Open Educational Resources (OER). Apply now
"Whether you're a high school graduate seeking a strong start or a professional considering a career shift, our semiconductor processing certificate program opens doors to a dynamic industry and bridge to significant companies like Intel," said Dr. Mohammadreza Hadizadeh, director of ISEP-CSU.
The program gives graduates the skills they need to be eligible for jobs at Intel's chip factory in New Albany, which is expected to be operational in 2025. According to Intel, the project will directly employ at least 3,000 technical skilled workers in Ohio, with tens of thousands more across suppliers and partners. 
"Central State University has established itself as a prominent leader in educating African American students in STEM areas, all thanks to our faculty's unwavering commitment to excellence in teaching, research, and service," said Dr. Arunasalam Rahunanthan, interim dean of the John W. Garland College of Engineering, Science, Technology, and Agriculture. "This program serves as a testament to our unyielding dedication toward creating a workforce in the semiconductor industry in the U.S." 
Average Intel worker salary estimated at six figures 
Intel's estimation projects an average salary of $135,000, which demonstrates the success and potential of those who strive toward excellence in their careers. 
The certificate program will prepare students for the dynamically growing world of semiconductors by equipping them with the skills and insights necessary to excel by combining comprehensive theoretical knowledge with practical experience. From exploring basic principles to diving deep into advanced applications, students are given the tools and education needed to shape the future in this field. 
For additional information on the Semiconductor Processing Certificate Program, please contact Dr. Mubbashar Khan at mkhan1@centralstate.edu.
This program serves as a testament to our unyielding dedication toward creating a workforce in the semiconductor industry in the U.S.

Dr. Arunasalam Rahunanthan

Interim Dean, JWGCESTA