Fulbright Scholars bring their cultures to campus
Posted May 08 2023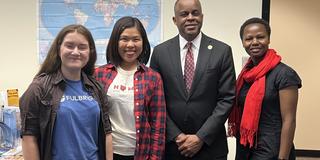 Above, from left: Daria Lenchenkova of Russia, Yu Chiang of Taiwan, Central State University President Dr. Jack Thomas, and Jane Shange of Tanzania
When you step onto the Central State University campus in Wilberforce, Ohio, you experience a community of diverse cultures and shared knowledge.
In April, Honors College students in pursuit of the International Honors designation at Central State shared some of those cultures during an International Bazaar. Among the nations that were represented were Liberia, Russia, Taiwan, Bahamas, Haiti, Gambia, Guatemala, and Tanzania. 
In addition to students, presenters included this academic year's Fulbright Language Teaching Assistants (FLTA): Yu Chiang of Tawain, who teaches Chinese; Daria Lenchenkova of Russian, who teaches Russian; and Jane Shange of Tanzania, who teaches Swahili.  
Read on to learn more about each of these outstanding scholars.  
Yu Chiang 
Chiang holds a bachelor's degree from the Department of Chinese at National Kaohsiung Normal University in Lingya District, Kaohsiung, Taiwan, and a master's degree from the Department of Learning and Materials Design at the University of Taipei, also in Tawain. She has over 10 years of teaching experience. 
"While I was still a university student, I often participated in activities organized by the Language Center where I made friends from different countries," Chiang said. "Through the process of language exchange, we were able to understand each other's national folk cultures and uncover our cultural differences." 
With immense joy and inspiration after learning about the FLTA program, Chiang has learned to apply her Chinese expertise to help students in the United States. Chiang said she is fond of walking around the campus, observing the changing scenery of the four seasons. 
"This 10-month life at CSU will be an unforgettable period in my life. As a teacher, the teaching environment here gave me full autonomy. ... I appreciate that I have a chance to learn different fields of knowledge and feel fully recharged again after years of work in Taiwan. 
"CSU is a very quiet and beautiful campus, and there are bicycle paths nearby to explore. I even saw many cows, horses, sheep, and lamas grazing leisurely by the roadside," she added. "There are also beautiful cornfield sunsets and occasional blue-pink or orange-red sunset glow, which are a good stress reliever for me after a whole day of hard work. (These are all) sweet memories deep in my heart forever." 
Daria Lenchenkova 
Lenchenkova hails from a small Russian city, Smolensk, to the southwest of Moscow on the border of Belarus. Before working as an FLTA, she taught English to adults in her home country for a decade.  
"After the pandemic, I started teaching English online, and I love it even more and try to apply interactive technology in my classes," Lenchenkova said. "Teaching CSU students Russian was my first experience of teaching my mother tongue, but it inspired me to pursue a further career in this field." 
Lenchenkova plans to continue taking courses on teaching Russian as a foreign language and pursue a doctorate degree.  
"What I appreciate most (about Central State) is the opportunity to join almost any class I like to audit here. I enjoyed studying with highly professional teachers and professors of Central State, who were always considerate to me," she said. "I am also grateful for the warm welcome and attention for Fulbright Scholars from President Jack Thomas."  
Lenchenkova also recognized the program's supervisors, Drs. Fahmi Abboushi and Michael Gormley. "My unique experience of studying and teaching at Central State University showed me the United States from a different perspective," she said.  
Jane Shange 
Shange is a graduate of the University of Dar es Salaam in Tanzania, where she earned a bachelor's degree in education with specializations in linguistics and the Swahili language. She also holds a certificate in teaching Swahili as a foreign language.  
During her earlier undergraduate studies, Shange volunteered to teach language in secondary schools in northern Tanzania. After graduating, she was employed as a language teacher in Tanzania's local government schools. She developed leadership skills as deputy secretary of the Dar es Salaam University College of Education Linguistics Club (DLC); an academic assistant at Bashay Primary School in Manyara, Tanzania; and an academic coordinator and school board representative at Harka Primary School in Manyara. 
"I have had a wonderful experience at Central State," Shange said. "The staff and faculty are very welcoming, and they accommodate us with great hospitality. I would love to give special thanks to the Office of International Studies and all faculty and staff for their patience, compassion, and presence whenever we faced any challenge. Last, I would like to thank all students at Central State University for their kindness and love." 
Central State empowers learners through international studies  
During the spring semester, Central State had 125 returning and 24 new international students for a total of 149. Thirty of those are expected to graduate this year. 
The list includes 128 Bahamian students, including 85 in the Public School Scholars Programme. Twelve are on athletic scholarships and 22 have band scholarships. International students are also recipients of the Presidential Scholarship and University scholarships.  
Learn more about the Honors College by visiting centralstate.edu/academics-colleges-and-schools/honors.