Centralian Jasmine Walker featured on PBS' Engineering Your Future
Posted Jun 08 2023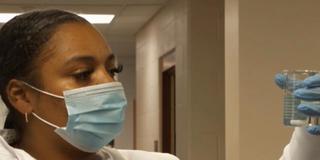 Central State University is committed to preparing students for innovative careers in science, technology, engineering, mathematics, and agriculture (STEM-Ag) through its 1890 Land-Grant mission. Centralian Jasmine Walker, '20, is an environmental engineer at GHD, a global professional services company focused on water, energy, and urbanization. She recently appeared on PBS Learning Media's Engineering Your Future, a series of stories about young professionals working to change the world through environmental engineering.
The series is geared toward students in grades 3-5 and 6-8, but people of all ages will enjoy getting to know Walker and learning about a passion for water quality that grew from her weekly fishing trips with her father.
For more than 135 years, Central State University has enriched minds and improved lives by empowering Black students to become leaders at home and abroad. Today, innovation is core to empowerment at Central. Our land-grant status is fueling our transformation into an incubator for STEM education, sustainability research, and advancements in agriculture. 
Learn more about the John W. Garland College of Engineering, Science, Technology, and Agricultral here.