Undergraduate Success Center
Undergraduate Student Success Center
The Undergraduate Student Success Center (USSC) provides academic advising and student support services. USSC's services are accessible to all students but are notably geared toward assisting first-year students. After thirty credit hours, the students transition to faculty advising through their major department, providing them with the resources necessary to progress on their academic journey. Its organizational units are designed to assist students in developing positive relationships with faculty, staff, and other students, which will foster a strong academic and co-curricular foundation at CSU and provide programs for students to acquire the skills, habits, and attitudes necessary to obtain academic success.
The Undergraduate Student Success Center contains four units: Academic Advising, Academic Support and Instructional Services, First Year Experience and Retention and Academic Success.
LaKeisha Jenkins Washington
Executive Director, Undergraduate Student Success Center
Director, Retention and Academic Success
Academic Advising
Knowledgeable and caring advisors guide and assist all students with less than 30 credit hours to navigate degree requirements, focus on academic achievement, develop transferable skills, and create a strong foundation to successfully transition to sophomore status.

Academic advising starts with the student! Although advisors provide assistance in making educational, career, and personal decisions, the primary responsibility for registering for the correct classes and completing a degree and University requirements remain with the individual student. 

USSC Academic Advising provides guidance and assistance to all freshmen through a collaborative educational process. Students and their academic advisors work as partners toward meeting essential learning outcomes and creating a strong foundation for students to successfully transition to sophomore status.
LaKeysha Smith
Director, Student Support & Academic Advising
E:  lsmith1@centralstate.edu
O:  937-376-6354

Office of Academic Support and Instructional Services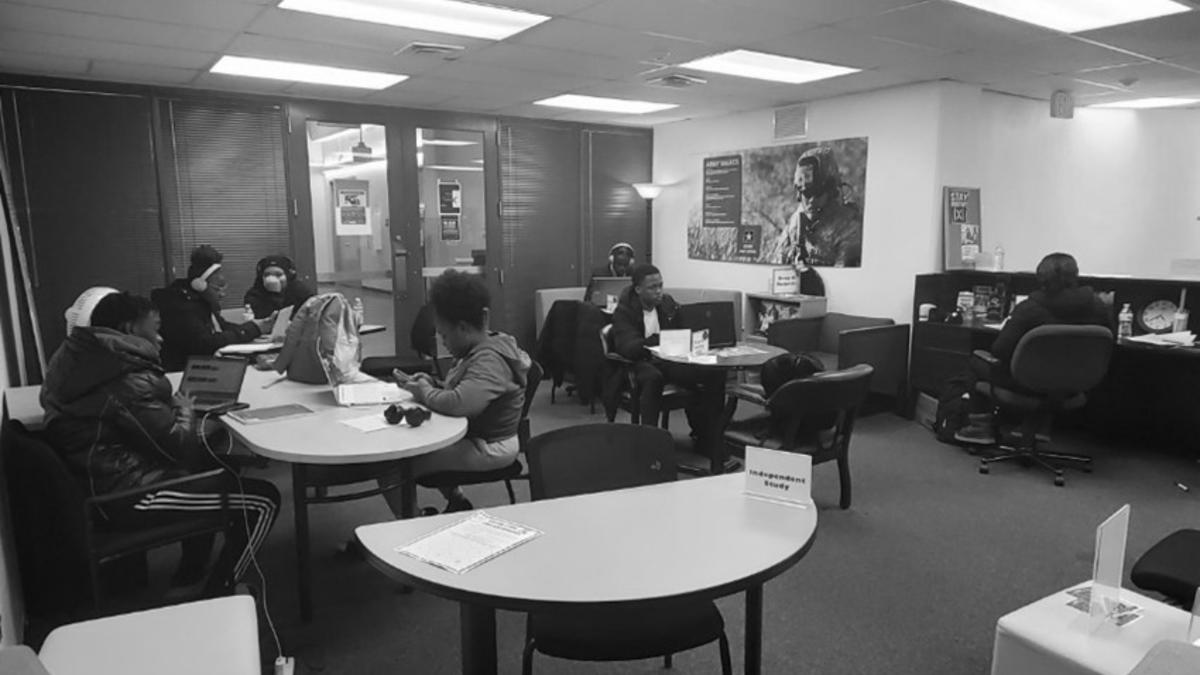 OASIS
What is OASIS?
Are you a student seeking help in a course that you are struggling in? You have come to the right place! The OASIS program offers many ways to receive the help that you need. OASIS provides a variety of programs and services to support all students but has a great responsibility for ensuring the academic success of every new incoming freshman.
These programs and services include learning skill development and tutorial programs to help students confidently complete their current courses.
OUR MISSION
The mission of OASIS is to assist students in developing their learning skills, improving their study skills, and achieving their academic goals.
Terron Dames
OASIS Coordinator
E: tdames@centralstate.edu
O: 937-376-6247
First Year Experience
First-Year Experience and Students Success provides retention-focused programming for first year and transfer students. The First- Year experience and student success unit is staffed by the coordinator of the First-Year Experience who oversees all aspects of the First Year and the Marauder Achievement Program. The coordinator supervises the Marauder Achievement Program Advisers and monitors all sections of the USS 1000 courses and USS 1200 courses. In addition, the Marauder Achievement Advisers provide intensive support to students on academic probation and oversee all aspects of the Marauder Achievement program. Furthermore, the Marauder Achievement Advisers facilitate social and academic focused programming while creating a student-centered learning environment in the USS 1200 course.
Ryan Griffin, Ed.D.                    
Director, First-Year Experience and Student Success 
Senior Associate Director of Retention & Academic Success
Marauder Advocates
Image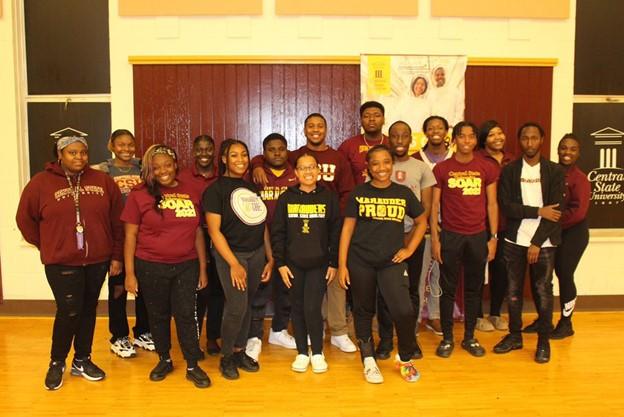 Who Are Marauders Advocates?
Your campus mentors to help guide first year, probationary, and international students through their first year at Central State University.
How Can Marauders Advocates Assist?
The Marauder Advocates are made up of over 20 upperclassmen students who are dedicated to enriching student life and retention at the university. Marauder Advocates work hard to uphold the pillars for success that are necessary for students: Mental Health, Academics, Career Readiness, and University Engagement.
Marauder Advocates are always open to talk to students and give them the advice they need. Since Marauder Advocates are upperclassmen and are more than familiar with the campus, if they do not have an answer, they can certainly point their mentees in the direction of who does.
Throughout the school year, Marauder Advocates can be found at various events as volunteers or workers. Marauder Advocates can also be found at the monthly events they host, including:
Weekly Study Tables – A time for students to join Marauder Advocates to study, talk, and get help with their classwork.
Woosah Wednesdays – A recurring event designed to be a safe space for students to come and vent about anything that they need to.
And many more!
If you are in need of a mentor or would like to become a Marauder Advocate, please stop by the Undergraduate Student Success Center suite in the Norman E. Ward building on the first floor.
Meet our Marauders Advocates TODAY!
Deahzja Frazier
Academic Advisor
Majors: (CHAS) Social and Behavioral Sciences (A-K)
E: dfrazier@centralstate.edu
O: 937-376-6670
Retention and Academic Success
The Office of Retention is instrumental in the development, implementation and analysis of varied retention strategies for students' success. This office integrates varied resources and collaborates with Student Affairs and Enrollment Management to ensure students have a solid educational foundation coupled with a rich collegiate experience.
Location: Norman E. Ward Sr. Center, First Floor
O: 937-376-6184
USSC Faculty and Staff
Connect with an USSC Team Member TODAY!
LaKeisha Jenkins-Washington
Executive Director
Director, Retention and Academic Success
E: ljenkinswashington@centralstate.edu
O: 937-376-6049

Robert J. Vidal
Program Manager 
E:  rvidal@centralstate.edu 
O:  937-376-6419
Student Support and Academic Advising


LaKeysha Smith
Director, Student Support & Academic Advising
E:  lsmith1@centralstate.edu
O:  937-376-6354

 
Academic Advisors


Ray Moon
Academic Advisor, Majors: Education, Engineering, Science, Technology, and Agriculture (A-K)
E: rmoon@centralstate.edu
O: 937-376-6356


LaShawn Shepherd
Academic Advisor
Majors: (CESTA) Engineering, Science, Technology, and Agriculture (L-Z)
E: lshepherd@centralstate.edu
O: 937-376-6184


Beyonc'e Swanson-Frazier
Academic Advisor
Majors: (CHAS) Social and Behavioral Sciences (L-Z)
E: bswanson-frazier@centralstate.edu
O: 937-376-6416
Deahzja Frazier
Academic Advisor
Majors: (CHAS) Social and Behavioral Sciences (A-K)
E: dfrazier@centralstate.edu
O: 937-376-6670

Craig Johnson
Academic Advisor
Majors: (CHAS) Education, Fine and Performing Arts
E: cjohnson1@centralstate.edu
O: 937-376-6085

Carlos Rodgers
Academic Advisor
Majors: (CHAS) Humanities, Arts, and Social Sciences & Undeclared (A-K)
E:  crodgers@centralstate.edu
O: 937-376-6026
My'kell Howard
Academic Advisor
Majors: (COB) Accounting &Business Administration (A-K)
E:  mhoward@centralstate.edu
O: 937-376-6158
Fougere Jacquelin
Academic Advisor
Majors: (COB) Accounting & Business Administration (L-Z)
E:  fjacquelin@centralstate.edu
O: 937-376-6657
Office of Academic Support and Instructional Services


Terron Dames
OASIS Coordinator
E: tdames@centralstate.edu
O: 937-376-6247
 Dawn MD Mumford
Mathematics Specialist
E:  dmumford@centralstate.edu
O:  937-376-6389


Conrad Zagory
Writing Specialist
E:  czagory@centralstate.edu
O:  937-376-6303


First-Year Experience and Student Success


Ryan Griffin, Ed.D.                    
Director, First-Year Experience and Student Success 
Senior Associate Director of Retention & Academic Success
E:  rgriffin@centralstate.edu
O:  937-376-6651

Tara McCormick
Academic Advisor/ Retention Analyst
Majors: Undeclared: Last name (L-Z)
E:  tmccormick@centralstate.edu
O: 937-376-6178