TRIO helps students graduate
Welcome to TRIO Student Support Services! In September 2020, the U.S. Department of Education awarded $2.2 million to Central State University, Ohio's only public HBCU and 1890 Land-Grant University. TRIO Student Support Services (SSS) aims to help students persist through their unique challenges to graduate from college. The Higher Education Act authorized TRIO Student Support Services, one of eight federal TRIO programs, to help college students succeed in higher education. The program's design is structured for students from first-generation, low-income families and those with disabilities who have not had the academic opportunities of college peers. As such, SSS provides participants (freshmen through seniors) with a comprehensive, researched-based framework with measurable objectives, intentionally aligned with the University's mission and strategic goals.
Intentional services
An essential department situated in Academic Affairs, TRIO's intentional services include but are not limited to the following:
Personalized academic guidance and coaching.

Supplemental education and co-curricular experiences (intra-interpersonal and online).

Graduate and professional school preparation, collaboration, and visits.

Cultural, leadership, and personal development seminars for students.

Persistence or resiliency strategies.

Financial literacy to connect educational credentials and money-management competencies.

Financial aid workshops to support persistence metrics and graduation goals.

Essential career coaching, mentoring, and wrap-around services with and through the academic Colleges and Student Affairs.
Grounded philosophy
Our 'why'
A triangulated participant-centered model is the program's secret sauce. Staff serving students from similar backgrounds are essential for the program's achievement metrics and successes, demonstrating exemplary advocacy and balancing student nurturing and self-determination constructs to illustrate holistic development and adherence to the program's logic model.
Observed experiences assure us that participants are amenable to thought-provoking engagements in preparation for an academically curious, energized, grounded experience. Our students (GEMS) are the reason for the program and as a result, the TRIO collective produces a new generation of thought leaders and civic-minded agents ready for change and transformation.
Image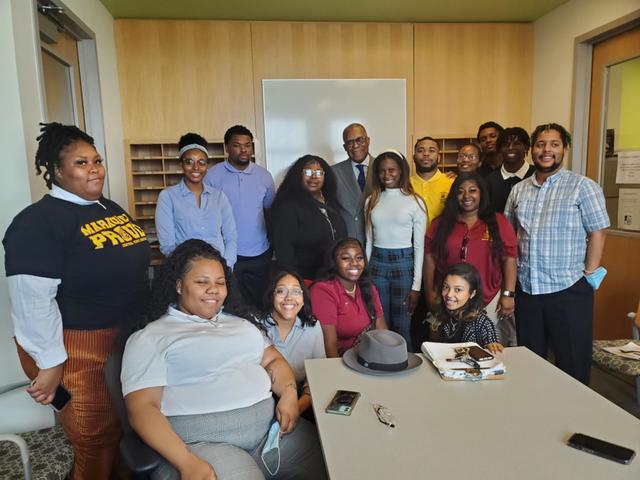 Memberships, organizations, and services
TRIO has supported high-achieving students, including the president of the Student Government Association, Ms. CSU, Ms. Junior, Ms. Sophomore, Mr. and Ms. College of Business, and Mr. College of Engineering. In the fall of 2022, 45 students achieved honors and Dean's List recognition.

Council for Opportunities in Education

The Council for Opportunity in Education (COE) is a nonprofit organization established in 1981. Its mission to further the expansion of college opportunities for low-income, first-generation students, and students with disabilities in all 50 states, Washington, D.C., the Pacific Islands, and Puerto Rico. Through its membership services, the Council works in conjunction with colleges, universities, and agencies to help low-income students enter college and graduate. Over a million low-income students and students with disabilities each year receive college access and retention services through our member colleges and agencies

Chi Alpha Epsilon National Honor Society

Chi Alpha Epsilon recognizes the academic achievements of college students in access and scholar programs. It promotes continued high academic standards, fosters increased communication among its members, and honors academic excellence achieved by those students. 

Educational Opportunity Association

The Educational Opportunity Association (EOA) is a nonprofit consortium of professionals created to address disparities in educational opportunities for first-generation, low-income, underrepresented, and disabled students and veterans. Central State collaborates with the Ohio TRIO chapter.

National Career Pathways Network

The National Career Pathways Network (NCPN) aims to strengthen the education-to-careers pipeline through professional development in Career Pathways, Adult Career Pathways, and career and technical education (CTE). NCPN supports secondary, postsecondary, and adult educators; practitioners in workforce and economic development and correctional education; and community-based organizations.

National Society for Leadership and Success

The National Society for Leadership and Success (NSLS) provides "a life-changing leadership program," helping students achieve personal growth and career success and empowering them to create positive impacts in their communities.

Services

Small group and one-on-one virtual mentoring and tutoring

Virtual coaching, academic advising, and graduate school and career planning

Cultural leadership conference

NAMI on Campus, part of the National Alliance on Mental Health

Mobile food pantry (Central State University, Dayton Food Bank, and community partners)

Central State University Student Government Association advisors

Council for Opportunity in Education (COE) national and Education Opportunity Association regional conferences 

Southwest Ohio TRIO (SWOT), Ohio's only regional TRIO-affiliated organization

Ohio Department of Mental Health and Addiction Services

COE priority training

Ohio Department of Higher Education's Strong Start To Finish

EAB/Navigate (leadership team)

Central State University College-wide Retention Committee (co-lead)

Multiple Measures Assessment and Placement Project (leadership team)