Top scholars take full advantage of Marauder experience
Posted May 17 2023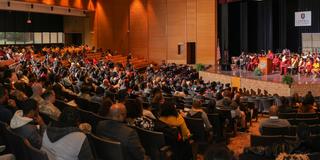 Central State University has honored four top scholars from the Honors College for the 2022-2023 academic year. They include Davaughn Major of the College of Arts, Humanities, and Social Sciences, Roy Burrows Jr. of the College of Business, Lovie-Afi Greene of the College of Education, and Kayla Smith of the John W. Garland College of Engineering, Science, Technology, and Agriculture. 
The Outstanding Senior Scholars were selected based on the following criteria: high grade point average, active participation in college and University activities, active service in the student's communities, involvement in the student's respective field (e.g., internships, conferences, etc.), outstanding public speaking, and membership in the Honors College. 
College of Humanities, Arts, and Social Sciences
The College of Humanities, Arts, and Social Sciences (CHAS) recently honored Davaughn Major as its top scholar for the 2022-2023 academic year.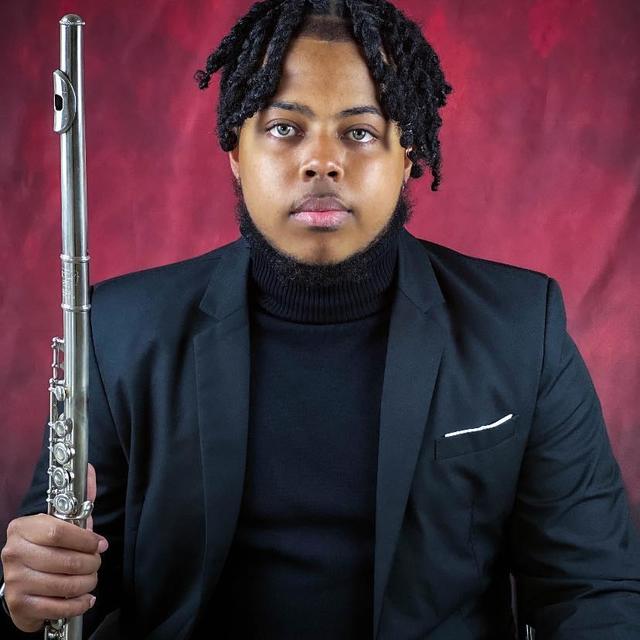 Major is an international student from The Bahamas pursuing a Bachelor of Music in Jazz Studies with concentrations in tenor saxophone and flute. He also serves as the 2022-2023 Mr. College Of Humanities, Arts, and Social Sciences.
Dr. Jennifer Cruz, chair of the Fine and Performing Arts Department, said of Major's character and strength, "No matter how hard I pushed him, no matter how much I challenged him, he met it every single time with equanimity."
Major has been committed to his musical education since childhood. At 12, Major taught himself to play the saxophone by emulating his favorite records. After years of self-tutelage, Adrian D' Aguilar, a bass player, began to mentor Major, providing him with the tools to play jazz. 
Upon receiving the award, Major said, "I want to thank and express my gratitude to anyone who has been a part of my life and CSU journey. Every drop in the ocean counts. I will never forget those who helped me sail in those difficult times and who deserve a portion of this award."
Playing a wide array of woodwind, keyboard, and percussion has allowed Major to add his sound and sensibilities to a multitude of musical endeavors worldwide. He has performed with legendary artists like Giveton Gelin, Ralph Munnings, Sharmond Smith, Dion D. Turnquest, Tino Richardson, Adrian D'Aguilar, Wynton Marsalis, and Duke Errol Strachan. Major has served as the assistant jazz band director for The Bahamas National Youth Orchestra, arranger for the Providence Jazz Band and The Bahamas Philharmonic Orchestra, and the 2022-23 Mister College of Humanities, Arts, and Social Sciences. He has performed with Central State University Jazz Ensemble at Norfolk, Virginia Jazz Festival with Wynton Marsalis, and The Jazz at Lincoln Center Orchestra. 
Ultimately, Major's artistic vision is to pay tribute to his ancestors and unify others by incorporating universal human experiences into sound. Major has been accepted to a graduate program, which he will pursue in the fall.
College of Business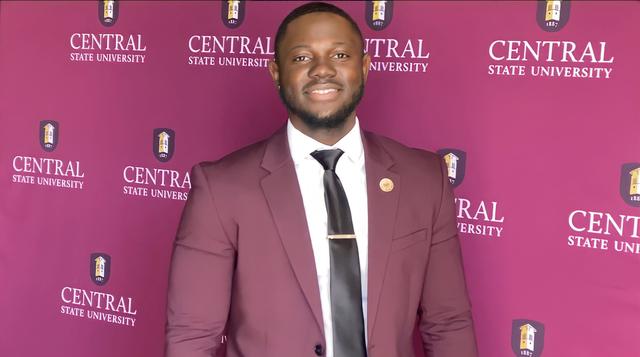 Roy Burrows Jr. of Nassau, The Bahamas, achieved distinction from his alma mater. A double major in accounting and business administration with a concentration in finance, Burrows has been named the Outstanding Senior Scholar in the College of Business.
At the Academic Recognition Convocation where this award was bestowed, Dr. Michael L. Simmons, chair of the Department of Accounting and Finance and associate professor of accounting, said Burrows "commands attention — not only because of his intellect but because of his character, service, and aspirations in life."
While maintaining a 3.93 grade point average, Burrows remained active on campus as a member of Alpha Lambda Delta Honor Society, Central State Honors College, Delta Mu Delta Honor Society, and Golden Key International Honor Society.
"Now that I'm about to graduate from college, I can finally see how this dream will soon be a reality because I have a job opportunity at one of the biggest accounting firms in the world," Burrows said at the convocation.
Burrows's goal is to become a certified public accountant — a dream he has had since high school. He enjoys playing piano, organ, and bass guitar. Burrows is self-motivated and wants nothing but success in his life. He also believes the sky is the limit, and, with God's guidance, he will accomplish anything and everything he puts his mind to.
College of Education
Lovie-Afi Greene has been named the Outstanding Senior Scholar in the College of Education.
"Lovie has an impeccable work ethic and always, always, strives to know more, do better, be better, but not above her peers, but always to be a better version of herself," said Dr. Sandra Sumerfield, assistant professor of reading and literacy at the Academic Recognition Convocation. 
Greene has been active in the Central State and broader communities — volunteering with the National Alliance on Mental Illness on Campus and Dayton Urban Young Life and serving as a Central State First Year Advocate. Combining her passion for serving others with her academic skills, Greene created a culturally responsive e-library for students and an electronic resource pamphlet for young adults with disabilities.
In the fall, Greene plans to head to Missouri to pursue her master's degree.
 

 

When I came here, I got the chance to thrive in an academic setting, to perfect my craft, and find myself again. During my time at Central State University, I have created a name that filled rooms that I never imagined walking into.

Lovie-Afi Greene

Outstanding Senior Scholar, College of Education
College of Engineering, Science, Technology, and Agriculture
Born and raised in Cincinnati, Ohio, Kayla Smith, an environmental engineering major, has been named the Outstanding Senior Scholar in the John W. Garland College of Engineering, Science, Technology, and Agriculture.
Dr. DeBonne N. Wishart, professor of environmental science and environmental studies, said of Smith, "Her eloquence, academic independence, curiosity, analysis, and discourse during class not only distinguished her from other students — it was refreshing."
"Now sitting here as a successful undergraduate at Central State University, I am thankful for the educational expedition and all the experiences that contributed to it," Smith said, reflecting on the honor.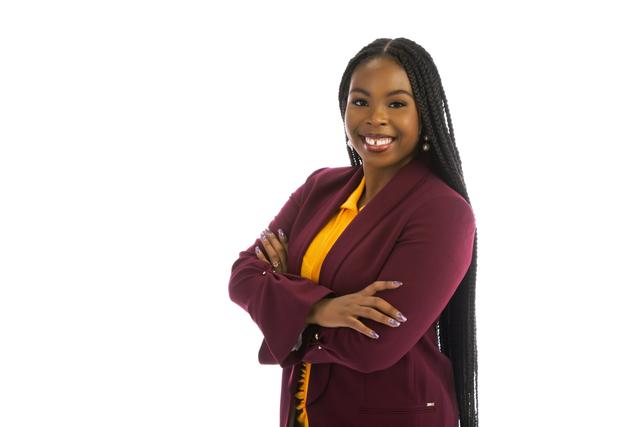 In addition to being named an Outstanding Senior Scholar, Smith is a 2022 Barry Goldwater Scholar — the first Barry Goldwater Scholarship recipient at Central State University. According to the scholarship's website, the Barry Goldwater Scholarship and Excellence in Education Foundation was established by Congress in 1986 to serve as a living memorial to honor the lifetime work of Sen. Barry Goldwater, who served his country for 56 years as a soldier and statesman, including 30 years in the U.S. Senate. The foundation provides scholarships to college sophomores and juniors who intend to pursue research careers in the natural sciences, mathematics, and engineering.
Smith was a Central State University Honors College member, a Central State University Trustee Scholarship recipient, the president of the Kappa Tau Chapter of Alpha Kappa Mu Honor Society, and a mentor through the Barry Goldwater Mentorship Program.
Upon graduating from Central State University, Smith plans to pursue her doctorate degree in planetary science to continue studying atmospheric interiors of planets and astrobiology.