Support a Central State athlete making a difference in his community
Posted May 31 2023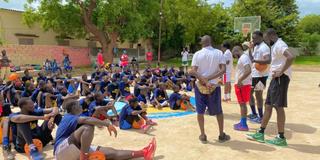 Ibrahima Jarjou, an international student on a basketball scholarship, is fulfilling his dreams of giving back to his community in Senegal, West Africa. In addition to playing basketball at Central State, Jarjou has consistently been on the dean's list, is a member of the Golden Key Honor Society, and currently serves as the President of the Central State Chapter of Psi Chi, International Honor Society in Psychology. 
Jarjou's accolades don't stop there. He's on a mission to make this world a little better than he found it. Centering the mentoring of young kids, Casamance Made serves the youths of Senegalese children and aims to educate them and provide opportunities not generally available.  
In Jarjou's own words, "I am more than an athlete, but basketball has opened so many doors for me and has taken me places that I could never imagine." Growing up in Senegal, many children in Jarjou's village would play basketball barefoot, and he wished that "someone would be kind enough to give me a pair of shoes and an opportunity to do something with their lives." Now, he wants to provide other children like him with the opportunity through Casamance Made.   
Currently, Jarjou is planning another Casamance Made event. He is coordinating a two-day basketball camp in Senegal. The hope is to provide kids with new opportunities, through basketball, fellowship, and education. In addition to donating his time and equipment, Jarjou hopes to also provide shoes, t-shirts, and meals to the community. Jarjou says, "Casamance Made is a dream come true. It is my calling and a way for me to give these kids a chance to be great."  
To support Jarjou's dream of giving back to his community, you can make a donation to Casamance Made at https://casamancemade.com/.