Honors College student discovers community, growth, and encouragement at Central State
Posted Sep 21 2023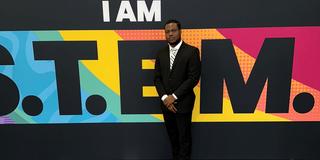 Phanuel Cofie, an Honors College student, has found a second home, a supportive community, and the encouragement he needed to surpass his limits at Central State University. Originally from Ghana, Cofie is now a senior pursuing a degree in Manufacturing Engineering with a minor in Nuclear Engineering. 
After attending a private college in the U.S. starting in 2019, he transferred to Central State in 2022 to continue his academic journey. Cofie initially studied Statistics at Kwame Nkrumah University of Science and Technology in Kumasi, Ghana, where he struggled to stand out among over 300 students pursuing the same major. At Central State, he has found a welcoming environment that has enabled him to thrive and reach his full potential.  
"I was a good student, but not the best," Cofie said. "(The class sizes were) not good for the students and the professors. The majority of the students were struggling, and it was tough to go see the professor if you did not understand what was taught in class."
"But when I came to the States and started at Central State University, I saw the difference."  
Despite facing some of life's biggest challenges after moving to the U.S., Cofie's determination never faltered. Cofie remained steadfast in his pursuit of academic excellence even after the unexpected loss of his father just before finals in the spring semester of 2023. Though his father had been working for years to bring his youngest sibling to the U.S. before his passing, Cofie and his sister now find themselves starting the immigration process anew. Yet, through it all, Cofie holds onto hope for a brighter future. 
Central State is a major factor in that optimism. Cofie discovered a welcoming community of peers, faculty, and staff who provided him with academic, social, and emotional support.  
"Central State University professors have the student's well-being at heart and genuinely want to help their students excel in school and life because they are accessible and welcoming to all students," the Honors College student said. "They go the extra mile just to make sure what is being taught in class is easy to comprehend and applicable in life. One thing I saw was the number of students in class, which makes it easier on the professors and the students, and I was amazed by what I saw."  
Cofie was struggling to come to terms with the unexpected passing of his father, and at the same time, he was excited at the prospect of reuniting with his younger sibling. During such a difficult time, he was fortunate to receive unwavering support from the Honors College. Despite the emotional turmoil and the inevitable impact it had on his grades, Cofie still earned an A and three B's in the four courses he was taking that semester.  
"I had a talk with (Honors and International Student Advisor and Adjunct Professor of Psychology) Mrs. Theresa Aikens about how I was feeling in regard to my dad's passing and how it affected my grades," Cofie said. "She was helpful and also pointed me in the right direction by scheduling an appointment with (Central State Director of Counseling Services) Dr. (Sonia) Hunt for me to go see her for the help I needed at that time."  
Hunt is diligent in reminding faculty and staff about the round-the-clock availability of mental health services. Hunt commended Aikens for referring Cofie to seek the necessary mental health services and for taking the initiative to schedule the appointment. Aikens' exemplary actions demonstrate a commitment to supporting students' well-being. 
Cofie recognizes the ample support and opportunities for career development, including his 2023 summer internship at Idaho National Laboratory. INL is one of only 17 national labs in the U.S. Department of Energy complex, with over 5,700 researchers and support staff "focused on innovations in nuclear research, renewable energy systems and security solutions that are changing the world," according to its website. There, he analyzed 3-D applications for computer-aided design to transition contracted work in-house.  
"I can go on and on about my experiences at Central State University and how the school is helping to shape and mold me in becoming the man I am today," Cofie said. "I am very happy and glad that I decided to go to Central State University and a big thank you to Professor George Owusu-Antwi for suggesting CSU to me when I was looking for a college to attend when I got to the States."
"I am very proud to be a Marauder." 
Apart from excelling in academics, participating in the Honors College program, and advancing his career prospects, Cofie is an active member of the National Society of Black Engineers and the Society of Manufacturing Engineers. 
Upon completion of his studies, Cofie intends to visit his family in Ghana with plans to return to the States as he believes he has more opportunities in his field here, given the high rate of youth unemployment back home.