Develop your career with workforce training
Posted May 24 2023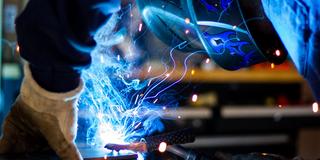 The Workforce Training and Development Business Center at CSU-Dayton will present job training sessions in 14 subject areas to help local workers advance their careers. Participants will learn in a hybrid format combining classroom, online, and practical, hands-on labs. For class specifics, submit an interest form.
14 job training options
The 14 job training subject areas include the following: 
Robotics, programmable logic controllers, and flexible manufacturing systems
Metal additive manufacturing 
Basic ARC welding, MIG welding, and TIG welding
Environmental permitting and auditing
Environmental health and safety and security (EHSS)
Principles of wastewater treatment and resource recovery
Heat treating
CNC programming
Additive manufacturing, reliability, quality assurance, and metrology 
Energy efficiency and auditing of water and wastewater systems 
iOS app development
Android app development
Principles of drinking water treatment and water quality 
Small business and entrepreneurship 
Welding and heat treatment workshop
As part of the program, a workshop on welding and heat treatment is scheduled for 9 a.m.-5 p.m. June 5-9 with Alessandro Rengan, who holds a doctorate degree in Materials Science and Engineering. Attendees will learn the art of welding and brazing while unraveling the secrets of heat treatment, gain hands-on experience and theoretical knowledge from experienced instructors, and transform metal with precision — unlocking a world of possibilities. 
Register today to advance your career with these exclusive workshops.