Central State University Provost F. Erik Brooks studied at Harvard University over the summer of 2023
Posted Sep 28 2023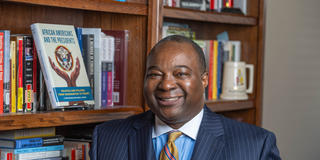 This past summer, F. Erik Brooks, provost and vice president for Academic Affairs at Central State University, participated in the Institute for Management and Leadership in Education (MLE) at Harvard University. This fellowship prepares those who seek higher education administration positions such as the university presidency. 
"The Institute for Management and Leadership in Education (MLE) offers experienced administrators the opportunity to gain a deeper understanding of issues that affect their institutions," Harvard says on its website. "MLE can help strengthen your leadership abilities at the system level, throughout your organization, among your teams, and within your individual practice."
Learning goals included understanding and overcoming the challenges of organizational change; mastering new approaches to leadership in complex academic settings; thinking and acting strategically with attention to people, financial resources, partnerships, initiatives, and emerging opportunities; assessing the impact of changes in the higher education environment; and fostering institutional cultures that prioritize equity, inclusion, and belonging.
In addition to learning, Brooks also networked with program faculty and colleagues from across the nation. 
"I had wanted to participate in this program for a long time," Brooks said. "I got accepted into the program during the COVID pandemic, but it was changed to virtual experience. I did not want a virtual experience, so I waited until the world opened back up. It was a privilege and an honor to have been selected to participate in this program." 
Brooks has an impressive academic record. He earned his Ph.D. in Public Policy and Administration from Virginia Commonwealth University in 2002. Additionally, he holds three master's degrees. He completed a Master of Science in Counseling and Human Development from Troy University, a Master of Public Administration from Auburn University Montgomery, and a Master of Education from Alabama State University. He obtained his bachelor's degree from Troy University in Alabama in 1989, majoring in Journalism and Art.
Brooks began his work in higher education in Student Affairs, serving as a counselor and an academic advisor at Alabama State University. After completing his doctoral studies, he decided to move to Academic Affairs. Then, he began as a Political Science and Public Administration faculty member at Georgia Southern University, where he earned tenure and was promoted. He then moved into administration as the department chair at Western Illinois University and became academic dean at Kentucky State University. 
"I continue to engage in research," Brooks said, "because, one day, after my time as an administrator and a university president has ended, I will return to the faculty, and I want to remain sharp in my teaching, research, and service. I hope this experience will allow me to hone my skills as a savvy, inclusive intellectual, and an ambitious administrator."