Building on its Land-Grant mission, Central State University enhances research with millions of dollars in grants and external funding
Posted Jun 09 2023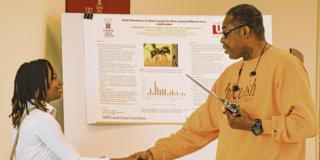 Above: A Central State University student and alum greet each other at the 2023 Research and Scholarly Activities Day.
Central State University is becoming a powerhouse in research development in Ohio and the nation while students and faculty benefit from millions of dollars in grant funding for sponsored research. 
The growth in research funding supports the University's goal to attain a Carnegie Research II designation, a leading framework for categorizing U.S. education institutions, within the next five years. The classification system sorts universities into categories by the types of degrees awarded with an emphasis on research.  
External funding and sponsored research are quickly growing areas of strength for Central State. Student and faculty researchers are contributing to cutting-edge projects, such as studying self-driving cars, practical uses of hemp, bees, crops, and more.  
The research and other projects with external funding scheduled over the next year at Central State includes the following highlights:  
Developing innovative strategies in science, technology, engineering, agriculture, and mathematics (STEAM) with the potential to lead to significant and wide-reaching improvements in the delivery of educational services and tangible educational benefits to students; and increasing the number of underrepresented and military-connected high school graduates pursuing science, technology, engineering, and mathematics (STEM) degrees from an Historically Black College or University (HBCU); 

Increasing retention and graduation rates and fostering an Institutional climate supportive of the success of low-income and first-generation college students; 

Addressing food insecurity among college students; 

Examine racial and ethnic disparities in Ohio's behavioral health system; 

Developing a semiconductor educational program; 
Digitizing historic collections housed at the University and providing program initiatives, leadership training, and a scholar-in-residence program; 

Establishing healthcare and healthcare-related workforce development infrastructure at Central State; 

Addressing obesity by assisting adults of African American and underrepresented minorities to adopt and model personalized healthy lifestyle choices through education and intervention; and 

Increasing awareness of sustainable agriculture products for farmers and ranchers, minorities, and underserved populations. 
Through grants and other external funding, Central State has met several of its strategic growth goals and continues to advance its mission to foster academic excellence within a nurturing living -learning environment and graduate a diverse population prepared for leadership, research, and service in Ohio and beyond. 
The unparalleled achievements are the results of dedicated faculty and staff committed to academic excellence. 
"Central State faculty and staff are continuing their rigorous pursuit of knowledge to address societal disparities," said Morakinyo Kuti, Ph.D., Associate Provost for Research. "This record-setting funding enables us to improve communities locally and globally through evidence-based activities. CSU is dedicated to providing students with experimental learning opportunities that contribute to their academic success and future professional careers." 
The 1890 Land-Grant system involves HBCUs established under the Second Morrill Act of 1890 with a goal to strengthen research, extension, and teaching in the food and agricultural sciences, according to the National Institute of Food and Agriculture, a program of the U.S. Department of Agriculture. Central State is one of 19 universities and the only public university in Ohio with the designation.  
During the 2020-21 fiscal year, Central State received $26.7 million in grants and external funding, an increase of over 114% from the previous year. It received another $50 million in 2021-22 for an increase of over 137%. Through May of the 2022-23 fiscal year, the University has earned $34.4 million in external funding. The totals do not include CARES Act funding awarded to universities in response to the COVID-19 pandemic. 
This historic achievement is consistent with the University's explosive growth in external funding and collaborative corporate and community partnerships. 
Grants and other external funding have enabled University faculty and staff to develop the latest programs; and expand innovative research. Sustained growth in funding demonstrates Central State's core value of academic excellence while enhancing the 1890 Land-Grant mission of conducting research and using knowledge gained to address societal problems.