Office of Marauder Leadership and Engagement
Marauder leadership and engagement
Image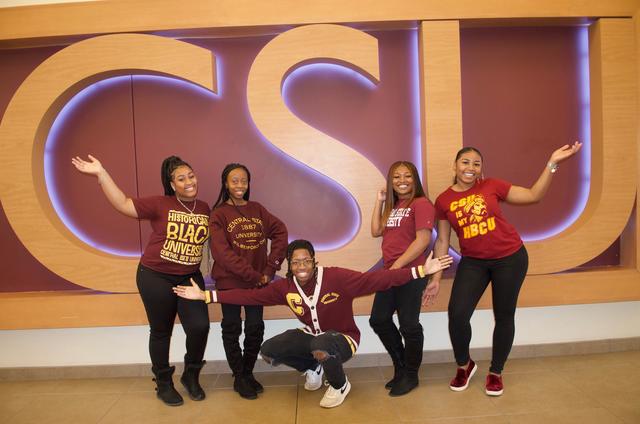 Welcome to the Office of Marauder Leadership and Engagement, which connects students with the many resources and opportunities that Central State University and Greater Miami Valley offer. Our office utilizes the University tenets — Service. Protocol. Civility® is its guide for connecting student passions and purpose to their collegiate experiences. The office promotes opportunities for campus and community involvement through student organizations, leadership training and experiences, and community service. Our aim is to provide students with an out-of-the-classroom experience that builds global leaders and responsible citizens.

The role of the Office of Marauder Leadership and Engagement is to support all registered and recognized student organizations, provide leadership development training and opportunities, assist student organizations with event planning and development, approve student events and programs, interpret and administer the Central State Student Organization Leadership Handbook, promote opportunities for campus and community involvement, and serve as consultants for new and innovative programs that respond to student needs and interest.The Office of Marauder Leadership and Engagement is also the home of the Campus Activities Board (CAB), the Student Ambassadors (SAs), the Student Government Association (SGA), Greek Life (NPHC and IGC), the Royal Court, select Homecoming activities, Welcome Week, and Spring Fest.
Student organizations
Central State University offers a complete educational, cultural, and social experience. Whatever your interests, you will find a group, organization, activity, or program that will appeal to you. We have many extracurricular activities and leadership opportunities that inspire students with out-of-class learning opportunities to enhance their college experiences. Activities range from academics to athletics and more.

These student organizations are classified under six categories: academic, business, special interest, religions, honorary, and Greek-letter organizations. The Office of the Marauder Leadership and Engagement, in conjunction with the Student Government Association's inter-organization committee, monitors the recognized student organizations' activities.
Image
Social and service clubs
New Age Modeling 
Beautiful Ladies of Strong Success 
Brush Row Rollers 
Family, Community, Leadership, and Action 
For Curls Only 
Golden Key 
Illmatic Expression 
Lights Camera Action 
Marauder Advocates 
Minority Association of Pre-Medical Students 
National Alliance on Mental Illness 
Nu Rho Sigma Fine Arts Fraternity, Inc. 
Praise in Motion 
Student Government Association 
The Royal Court 
The Vibe 
X-plosive Dance Team
Greek life
Central State University has a vibrant Greek community on campus.
The Divine Nine
Sororities
Alpha Kappa Alpha Sorority, Inc. 
Delta Sigma Theta Sorority, Inc. 
Sigma Gamma Rho Sorority, Inc. 
Zeta Phi Beta Sorority, Inc.
Fraternities
Alpha Phi Alpha Fraternity, Inc.
Iota Phi Theta Fraternity, Inc.
Kappa Alpha Psi Fraternity, Inc.
Omega Psi Phi Fraternity, Inc.
Phi Beta Sigma Fraternity, Inc.
Connect with us
Office of Marauder Leadership and Engagement
Hours of operation | Monday-Friday, 8:30 a.m.-6 p.m.
O: 937-376-6634
E: studentlife@centralstate.edu

Jonathan Cummings
Coordinator
O: 937-376-6567
E: jcummings@centralstate.edu
Twitter: @CSU_SE1887
Facebook: Central State University Student Engagement
Instagram: CSU_StudentEngagement1887