What is the Digital Marauder ID Card?
The Digital Marauder Card ID Card is the official identification card for online degree-seeking students at Central State University.
Issued Digital Marauder ID Cards are good only for the term for which they are issued and new Digital Marauder ID Card invitations are sent every term 1-2 weeks after the last day to drop add.

Invitations and issued cards

 are not transferable.

Student status and official University identification number are indicated on the front of the card.

Students should maintain access to their Marauder Card through the ID123 mobile app at all times as proof that they are a CSU student. 

Lending or borrowing the Marauder ID Card, altering it in any way or failing to present it when requested by a University official is a violation of University regulations and subjects both the lender and the borrower to disciplinary action. You may be asked to present an official state-issued ID alongside this ID as proof of identity upon request. 

The ID card will also be revoked for attempted use by another individual and the violator's name forwarded to the Dean of Students Office.    
Who is eligible for the Digital Marauder Card?
The Digital Marauder Card is only issued to all online degree-seeking students each semester. The card expires at the end of the term and if the student remains enrolled, an invitation for a new ID will be sent to the user after the drop/add date of the next term.
On-campus degree-seeking students are NOT eligible for the Digital Marauder ID Card, but may pick up their physical Marauder ID card on campus on in Room 13 of the Newsom Administration Building.
How do I access the Digital Marauder Card?
Accessing your Digital Marauder Card ID Card starts with the email invitation sent to you by ID123 card administrators. If you do not receive an email invitation, you are not eligible for the digital card and will have to make arrangements to get a physical Marauder Card ID Card on campus.
Online degree-seeking students who do not receive an invitation my contact ID Card Support to request an invitation. 
The Digital Marauder Card ID Card is ONLY ACCESSIBLE ON A MOBILE DEVICE. You cannot access the app on a computer, as the ID card is intended to function like a physical ID card that can be held up to a camera on your computer during a proctored assessment experience to prove your identity.
You must have room on your mobile device to download the ID123 app in order to access your Digital Marauder Card ID Card. Refer to your phone user's manual on how to free up space on your device if necessary. 
Steps to install Digital Marauder ID card
Receive the Digital Marauder ID Card invitation email
Your ID card administrator will send you an email inviting you to download the ID123 app and install your card. On your mobile device, the email will look something like this: 
Image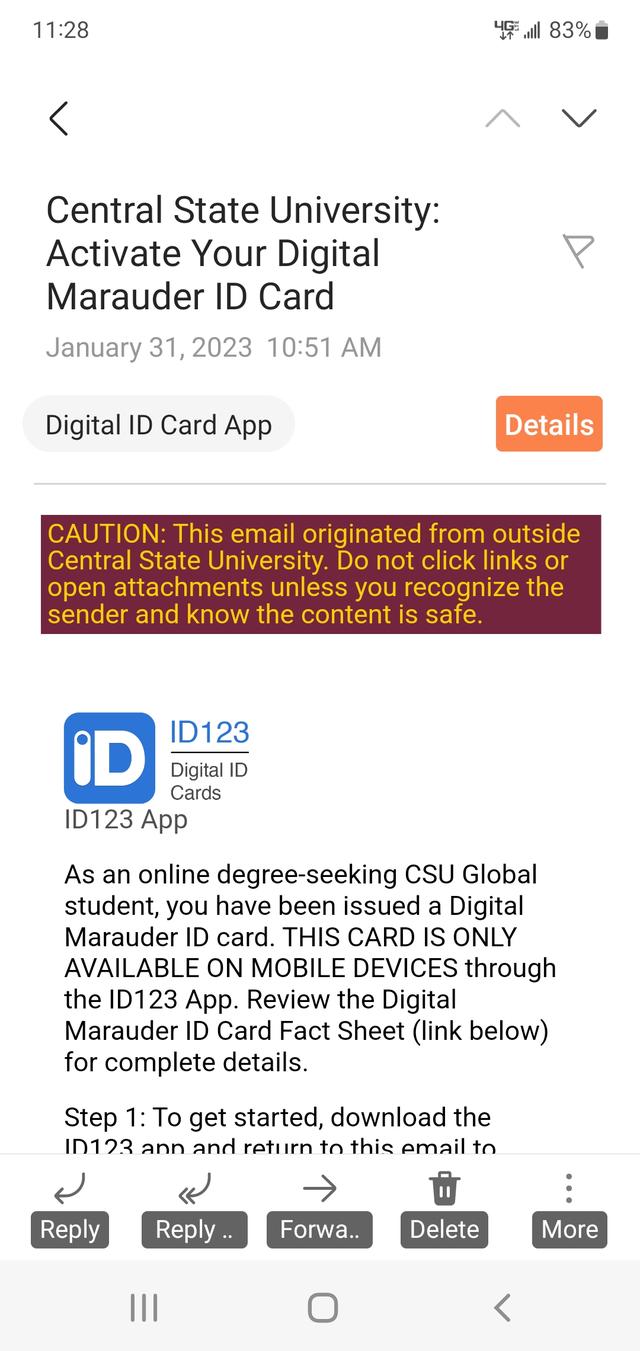 In the email card invitation, click on the button that is appropriate for your device. 

Image

This will send you to the App Store or Google Play Store depending on the mobile device you're using. The App Store is for Apple devices and the Google Play Store should work for most other devices.

Install the ID123 App on your device.  The image below shows an example from the Google Play Store. After installing the ID123 app, return to the invitation email for the next step.

 

Image

Tap on the "Install my card" button in the email. This will automatically take you to the app and create an account for you. If you are reading your email from your computer, you can also install your card by using the QR code in the email by scanning it with your mobile device camera if your device supports QR code scanning.

Image

After tapping on "Install my card," you will need to confirm your CSU email address and answer security questions to verify your identity. You will be asked to verify your birth date using numbers and your nine-digit CSU student ID.  

Birthdate Example:  01/01/1994
ID Number Example: 000123456

IMPORTANT NOTE: All CSU IDs contain three leading zeros and are 9 digits long.

Image

As you are uploading your own photo for this ID card, you may be asked to also present an official state-issued ID alongside the Digital Marauder Card ID Card to prove your picture identity. You can upload a photo you have saved to your phone, or use your phone to take a picture to upload by clicking on the Upload Photo button.

The photo you upload must be:

be a recent, color photo, without filters

have a clear image of only your face

have a solid background; no other objects should appear 

Image

 

Image

Once you have selected a photo that meets the requirements, click the "Next" button to confirm your card information.

Image

Then click "Submit" and agree to the Terms & Conditions of the Card by clicking the Agree Button.  

Image

 

After you agree to the card terms and conditions, you will be prompted to select if you would like the ID123 app to provide you push notifications to your phone.

Image

Make your selection, and then review your finalized Digital Marauder ID Card. 

Image
Still need help?
If you still have problems activating your ID card reach out for card support.