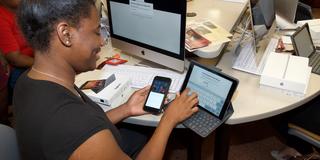 Office of Academic Planning and Assessment
Office of Academic Planning and Assessment
The Office of Academic Planning and Assessment (OAPA) supports the scholarly, administrative, and fiscal infrastructures required to enhance the University's academic programs, manage institutional growth, maintain accreditations, and achieve the objectives of the University's strategic plan. The OAPA facilitates and supports institutional and program accreditations, assessment of student learning, and program review. Included within the OAPA are the Office of Institutional Research and the Center for Teaching and Learning.

The Office of Institutional Research provides data for University-wide constituencies and for external stakeholders, including the Ohio Department of Higher Education and the U.S. Department of Education. The Office of Institutional Research also provides data to ensure compliance in the areas of grants and sponsored programs and athletics (NCAA).

The Center for Teaching and Learning (CTL) provides training and development to faculty during the annual Faculty Institute/Assessment Day in fall and Faculty Retreat in spring as well as through workshops and seminars throughout the academic year. The CTL also manages a faculty development and travel fund which provides financial assistance to support faculty's professional development and maintains Faculty Central, the University's professional development site for faculty.