2023 Commencement Ceremonies
May 13, 2023
9:00 a.m. to 12:00 p.m.
Congratulations to our graduates! Central State University shares your joy in accomplishing your academic goals. As a graduate, you are an outstanding example of a bright legacy of teaching and learning through faculty and staff. Central State University Commencement is a joyous occasion, and our guests are invited to celebrate the accomplishments of the 2023 graduating class. Central State will broadcast on Facebook Live @centralstate87.
Watch Live on YouTube ---> 2023 Central State Commencement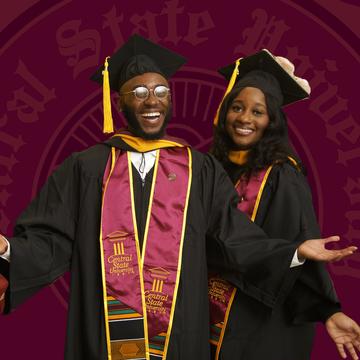 In the event of rain, the Commencement will proceed on the football field as planned. However, in the event of thunder and lightning, Commencement will be moved to the Beacom-Lewis and Walker gymnasiums. We are looking forward to welcoming you to campus to cheer the achievements of Marauders.
Baccalaureate ceremony
Paul Robeson Cultural & Performing Arts Center, Auditorium
Friday, May 12 | 5 p.m.
Baccalaureate reception
University Student Center, Ballroom
Friday, May 12
6:30 p.m.
Baccalaureate speaker — Dr. Ryan L. Griffin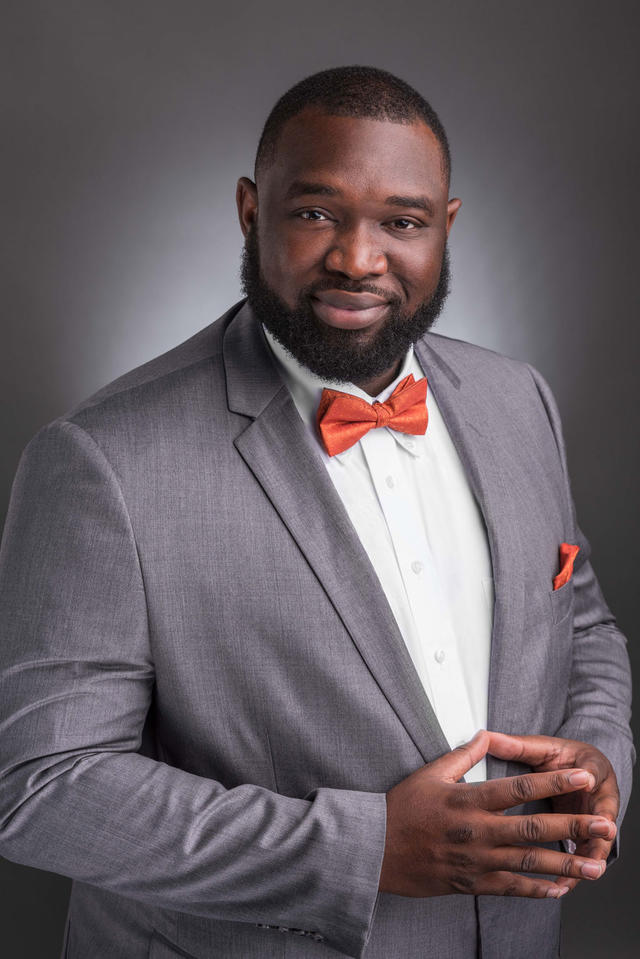 Dr. Ryan L. Griffin is the senior associate director for the Office of Retention and Academic Success at Central State University.  Prior to accepting his role, Dr. Griffin previously served as the assistant athletic director for the Office of Student-Athlete Services at Bethune-Cookman University (B-CU). Additionally, he has served as a member of the Faculty Senate, the General Education Committee, and as an adjunct professor.  At B-CU, Dr. Griffin was instrumental in developing programming for student-athletes and minority male students to boost retention and graduation rates that exceeded the institution's numbers by 13%.
Dr. Griffin is passionate about student success and serving as a positive force, assisting students in accomplishing their goals. During his tenure at Central State, he is continuing to make a tremendous impact on the student body.
In 2018, he received his doctorate degree in Higher Education Leadership from Walden University. Dr. Griffin is a native of Miami, Florida. He and his spouse, Ashanti Griffin, are the parents of a daughter, Taylor, and a son, Ryan Jr.
Commencement rehearsal
Paul Robeson Cultural & Performing Arts Center, Auditorium
Friday, May 12
10 a.m. to 12 p.m.
 
Commencement ceremony
McPherson Stadium
Saturday, May 13
9 a.m.
Note: Tickets are not required.
Commencement speaker — Dr. Michael Eric Dyson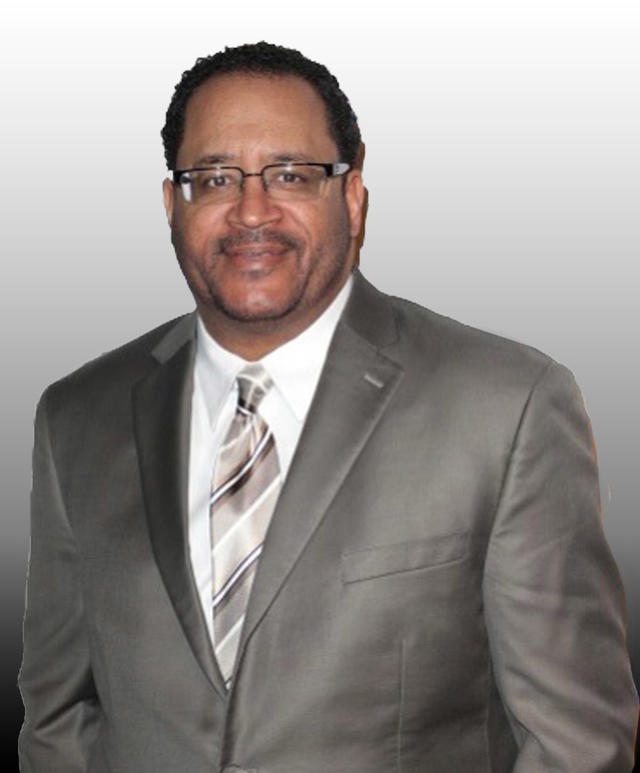 Dr. Michael Eric Dyson is a man of many talents. As a professor, he has taught at some of the most prestigious universities in the nation, including Princeton, Brown, and Georgetown. Currently, he is a distinguished university professor at Vanderbilt University, where he holds positions in the College of Arts and Science and the Divinity School.
In addition to his academic pursuits, Dr. Dyson is also a gifted writer and media personality. He has authored over 25 books, including seven New York Times best-sellers, and has won numerous awards for his literary contributions, including the 2020 Langston Hughes Medal and two National Association for the Advancement of Colored People (NAACP) Image Awards.
Dr. Dyson's work spans a wide range of topics, including civil rights, hip-hop, black culture, and politics. He has written best-selling books on prominent personalities, such as Martin Luther King Jr., Malcolm X, Tupac Shakur, Marvin Gaye, Bill Cosby, and Barack Obama.
_____________________________________
General information
Central State University Bookstore
Please plan to purchase your academic regalia from the CSU Bookstore. Contact them at (937) 376.6123 or sm8189@bncollege.com.
Grad Images
Grad Images will take the graduation photos during commencement. Graduates can place their orders after May 13. For additional information, please visit https://www.gradimages.com/. 
Accessibility accommodations for family and other guests
Accessible parking
Accessible parking for people with disabilities is available on a first-come, first-served basis. A valid permanent or temporary handicap tag/placard or license plate from any state is required. Please plan to arrive early, as reserved parking is not guaranteed.
Seating
McPherson Stadium opens at 8 a.m. on commencement day. All seating is on a first-arrived, first-seated basis. Tickets are not required.
Accessibility accommodations
McPherson Stadium provides easy access for guests with disabilities. We recommend guests with limited mobility or difficulty walking long distances consider bringing a wheelchair. Accessible seating is located at the entry level in front of the bleachers on the press box side of the stadium. Please limit to one companion so we can accommodate everyone. 
If you need assistance finding seating, please see one of our volunteer ushers or security staff inside the stadium. No prior arrangements are necessary. 
Note: For the commencement ceremony, wheelchairs will not be available through the University.  
Interpreter services
An interpreter using American Sign Language (ASL) will be available during the ceremony. If you cannot see the interpreter from your seat, please find a volunteer usher or security staff to assist you in finding a new seat. No prior arrangements are necessary.
Service animals
Service animals are permitted on campus. Anyone attending the ceremony with a service animal is expected to keep the animal under control at all times.  
Restrooms 
Restrooms will be available in the Charles S. Smith Hall, the Beacom/Lewis Gymnasium, and the McPherson Stadium.
Chemical sensitivity 
Although the University cannot guarantee a chemical-free environment, some guests may be subject to chemical sensitivity. In consideration of others, please consider not wearing strongly scented products.
____________________________________
Honors College Convocation
Gold cords, academic distinctions, and Honors College designations 
Central State University's Honors College Convocation is held annually during the week leading up to commencement to acknowledge the outstanding academic achievements of graduating seniors. Students who qualify for participation in the event will be notified by email. The recognitions awarded (gold cord, distinctions, and designations) are determined by the cumulative grade point average earned and honors work completed during their collegiate journey. 
This year, we invite you to join us at 7 p.m. Thursday, May 11, in the Robeson Hall Auditorium.
Award criteria
Gold cords: Awarded to graduating seniors with a 3.5-4.0 cumulative GPA (any D or F grades make the student ineligible).  

Academic distinctions: Medallions are awarded to graduating seniors who meet the following criteria:

Summa Cum Laude | 3.90 or higher cumulative GPA for all work completed 
Magna Cum Laude | 3.75 to 3.89 cumulative GPA for all work completed  
Cum Laude | 3.60 to 3.74 cumulative GPA for all work completed

Honors College designations: Medallions are awarded to graduating Honors College members who have completed the requirements for one or more of the following designations: 

General Honors  
Honors in the Major  
University Honors  
International Honors 
ATTENTION: Awards will not be mailed.  
For graduates who cannot attend the Honors College Convocation, awards will be available to pick up from 12-2 p.m. Friday, May 12, in front of the Marauder Café in the University Student Center.
NOTE: A picture ID is required to pick up awards. Students may also identify a designee to pick up awards, but advance notice is required, and the designee must also present identification. If you have questions or concerns, contact Ms. Sarah Jones, Honors Program Manager, at sjones@centralstate.edu. 
Specific questions about graduation should be sent to graduation@centralstate.edu.